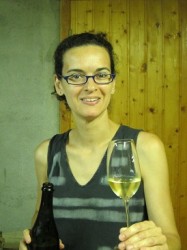 I hate to admit it but the wine industry is dominated by men and being a woman in the industry I have to say I was refreshingly delighted to meet Eva Ventura  from Mas Bertran Viticultors to have a tour of her Cava cellar. This small, family-owned bodegas focal point is on constant innovation whilst producing the pinnacle of Cava.
Currently they make only two Cavas, a Reserva (Balma) and a Gran Reserva (Argila), both in the Brut Nature category. They stick to the traditional grapes; Xarel-lo, Macabeu and Parellada and everything from the riddling to the foil capping is done by hand. The first bottles hit the market in 2006 and they are producing around 38,000 bottles per year. It's nice to think when your drinking Mas Bertran that every bottle has been cared for individually rather than R2-D2 machines doing all the work.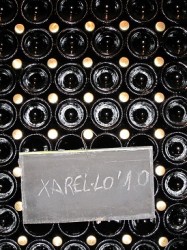 The cellar itself has an intimate romanticism about it. Two flights of stairs underground and you're surrounded by bottles in old ceramic fermentation tanks that have been converted into the current cellar. The darkness, the slight chill and the thousands of bottles around you is just something I don't think I could ever get sick of when visiting Cava producers – truly a great experience.
My favourite in the tasting had to be the Argila, it had the complexity on the palate and nose that stood up to you and said 'this is a top notch Cava'. The interesting thing about this Gran Reserva is that it is made with 100% Xarel-lo from 50 year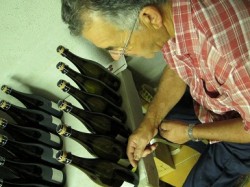 old vines that are organically farmed. Showing my true girly colours I also have to mention the box it comes in is very funky, modern and appealing, perfect for the next anniversary men! See our tasting notes in the e-book 50 Great Cavas
If you wish to pay Mas Bertran a visit, please contact them directly or Wine Pleasures to help you set up a tour. September 2011 marks the date for their new winery to be opened so be sure to check that out and also watch out for new Mas Bertran products to hit the market soon, I feel good things are on there way.