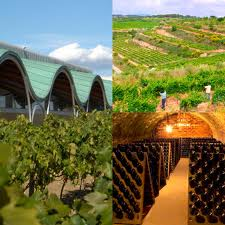 Gramona is excellence in a bottle. It is excellence that has been patiently nurtured, crafted and is constantly under constant innovation. It is these qualities that have made Gramona Cavas stand out not only on a national level but also globally. The philosophy at this Bodega is to make complex aged Cavas in contrast to young fruity Cavas.
The first bottle of Gramona produced was in 1921. It is a family business, currently in the hands of the 3rd generation of Gramonas'. Alongside the Bodega's unique philosophy they also believe in experimentation. This is shown through their 25 product strong portfolio. Ranging from their 9 Cavas to still and distilled pours. 
The underground caves 'Celler Batlle' was constructed in 1881 and since then has been added on to, to make up the cool, dark, three-storey cave, home to Gramona's finest elixirs. Gramonas' priority for excellence goes further than just there ageing techniques but also by using 3-disc corks, the solera dosage system and their precise hands on approach from riddling to labeling their premium cuvees.
The chance to experience the Gramona cellars cannot be missed. Tours can be arranged in Spanish, Catalan and English. The price ranges from 6 Euro per person for a 45-minute tour and tasting and up to 40 Euros per person for a 3-hour tour including a guided tasting of 8 different Cavas.

See our tasting notes in the e-book 50 Great Cavas