The scenic drive toward Barberà de la Conca on a fine sunny morning had my eyes peeled taking in all the vibrant colours of the picture perfect landscapes I felt like I was on a film set where they could pick up and move this background.  Even more beautiful was as the small town started to appear from a distance the first thing I noticed was the church towers and what looked like an enormous cathedral.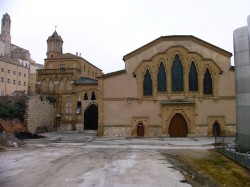 I did not need to be told that the cellar we were visiting was the work of a Gaudi disciple Cèsar Martinell, the modernistic style of the stunning building in front of me was unmistakable.  Designed in the early 20th century the building looks more like a temple or a castle than a wine cellar and takes pride of place in the centre of Barberà de la Conca. The name of this town struck our interest as it stood up high in the "conca" or hollow, it was clear to see why it could have been such an important place, the perfect view over the entire region – Conca Barberà.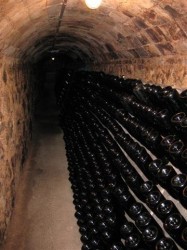 Just as intriguing inside as out we walked along the mezzanine path overlooking the big tanks and looked out through the triangular church like windows at a great height, appreciating the enormous size of this building as we learnt about the practical uses of the different levels and such before the times of electronic machinery to assist with the harvest.
Walking down to what is now the underground cellars but originally used as a drainage system for the embedded tiled fermentation tanks was a bit of a squeeze, the very small area with low arched ceilings was not a trip for the claustrophobic type but really interesting to see nonetheless. The cava kept here is the only made and bottled here at the Barberà de la Conca. Inside the warehouse we were also shown a historic tractor from 1954, fully restored to its former glory the number plate showed that it was one of the first few hundred tractors ever to be used in this region, very different to a machine you would see today but certainly had a charm to be admired.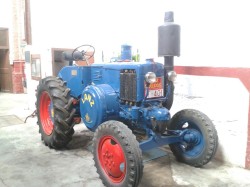 It is from this Catedral del Vi (Wine Cathedral) as it was named by the Catalan writer Àngel Guimerà, that Castell D'Or brings together 9 different wine producers within Catalonia to establish a cooperative, as we saw in the visitor centre displaying not only a great selection of cava and wine from the different brands but local foods also. We took pleasure in a tasting inside the tower part of the building which was inspired by the design of a church bell.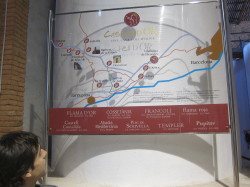 Get your free copy of the 50 Great Cava eBook>>
50 Great Cava wine tastng tour>>
Emma Combey