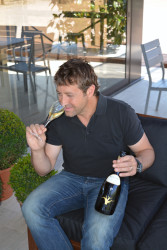 Walk through the centre of the Capital of Cava, Sant Sadurní d'Anoia, and you will see a multitude of doorways advertising the sale of Cava. Step in and you will be sure to be invited to go underground to see bottles of Cava ageing on their lees and you will most likely finish up with a glass of Cava Brut Nature. Most of these producers are small and have been for decades. Others have left behind their cramped and restrictive cellars and have built brand new modern facilities slap bang in the middle of their vineyards. Cava Bertha (formerly Josep Torres Sibil) is one such example of this migration.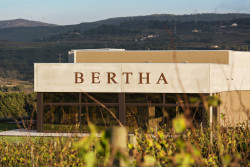 Owner and winemaker Josep Torres Sibil started crafting Cava in 1989 and it wasn't until 2014 that the move to the present vineyard location, just 2 kms out of Sant Sadurní was made.  Cava Bertha is clearly visible from the "Cava Highway" (the road connecting Sant Sadurní d'Anoia with Vilafranca del Penedès) but actually getting to it can be a bit of a challenge and a bit of fun at the same time. Drive one way and you have to figure out which vineyard to drive through, drive another way you have fast traffic coming at you as you make a U turn.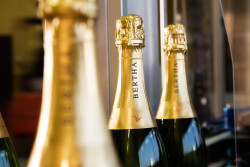 Once at the winery you are surrounded by vineyards and great views of the mountain of Montserrat and the Subirats Castle. As the winery has only just been built do not expect dark, musty, cobwebbed underground caves, quite the opposite, you will find a practical, clean and well organized work place where Cava bottles can be easily moved around throughout the whole production process.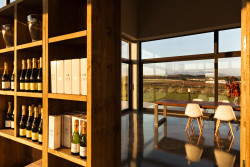 The jewel in the crown at Cava Betha is the possibility of being able to sit outside on the terrace and taste Cavas in the middle of vineyards and admire the panoramic views. A windowed tasting room is available in the event of rain and/or if it is a bit chilly outside which affords the same views that you get from the terrace.
Josep clearly had wine tourism in mind when he gave his architect the brief on how he wanted his winery to be built. Several visit options can be found on the web site including  " A Catalan Breakfast in the Vineyards"  which consists of local cured meats, cheeses, breads, olives and coca (not the Colombian kind but the sweet pastry bread kind typical in the region) all washed down with any or all of the Cava Bertha Cavas included amongst the 50 Great Cavas. The extravagance ends with a visit to the winery, that is, if you are able to get up.
A healthier alternative is the Bertha & Fit which consists of a bike ride, run or walk amongst the seven hectares of Chardonnay, Macabeo and Xarel.lo. Yoga too is available upon request.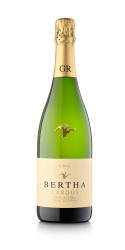 Cava Bertha have the following Cavas amongst the 50 Great Cavas 2016>>
SXXI Rosé 2009 (Gold medal with 97 points)
Bertha Brut 1989 (Gold medal with 96 points)
Bertha Lounge 2013 (Gold medal with 94 points)
Cardús 2009 (Silver medal with 92 points)