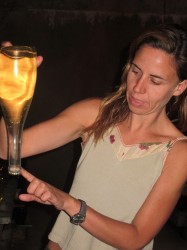 From the get-go, I was intrigued by the name of this bodega and the anchors shown within the family crest; thankfully, I didn't have to wait long to hear more since we were greeted by the proprietors daughter and she was happy to explain. We learned that the winery was named Capita Vidal, or Captain Vidal, after her father who spent a lifetime sailing around the world. When he finally 'came to port', he decided to dig his sea legs into the earth and start a winery high in the Penedés.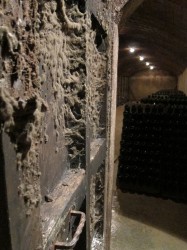 We were shown through the winery, the cellar, the caves- where every one of their 100,000 bottles are hand-riddled, and finally into their tasting salon. With old photos, sailors' knots, maps and medals lining the walls, and bottles from each of the winery's  25 harvests standing proudly above the tasting bar, it paid tribute to both parts of the Capita's life.
As we were looking at the bottles, we learned the name Capita Vidal was often mistaken as having a military association, so they changed the name on their labels, but kept the original title for the winery. Their Cavas now go by Fuchs de Vidal, a combination of her parents' last names, and their still wines are labeled under the name Clos Vidal.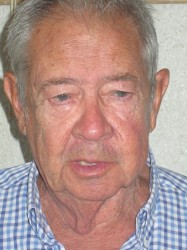 As we talked more about their philosophies, it became obvious that the most important thing to the family at Capita Vidal is not just listening to what their clients want, but actually acting upon their feedback.  For instance, when one of their best customers requested a Cava bottle labeled with the Rainbow Flag, they created a new wine with that emblem; when one of their other fans, a former 'Barca' footballer, wanted his own name on one of their bottles, they made a limited production Cava not only named after him, but with a silhouetted label as well. They also took the time to notice the trends surrounding Rosé wines and restyled theirs to suit their customers' palates; that wine has sold out every summer since.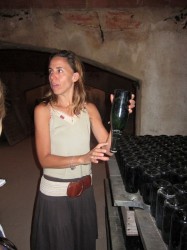 Unfortunately, this personal way of doing business is often 'disgorged' as companies ramp up production, cut costs and corners or bend to meet investors' requests. At Capita Vidal however, their respect for nature, loyalty to supporters and free-thinking attitude is as clean and clear as the Cavas they produce.
See our tasting notes in the e-book 50 Great Cavas