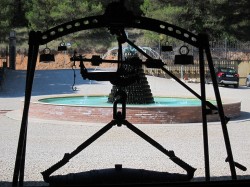 You need only whisper the name of Agusti Torello Mata here before a proud smile evokes from the staff at the bodega.  This one man is the life and soul of this winery.  Having been welcomed by Joan, the commercial director, he directed straight to the pressing room.  It soon became apparent that the three most important virtues of ATM is tradition, quality and family.  Joan explained the magic of the wine begins in the vineyard.  The grapes have to be of the best quality possible, after all you can´t make great wine from bad grapes!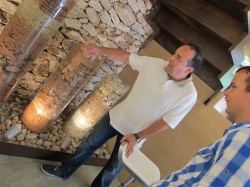 The winery sources their grapes from three different regions of Penedes, each providing their own unique character.  The lower regions near the coast allow the Macabeo to ripen fully and express their true apple character, whilst further up the valley; the Penedes depression houses the Xarel-lo grapes, providing the body to the blend.  Finally, sitting on top of Penedes region is the Parellada grape giving the wine its tropical fruit flavours.
Joan was proud to admit that ATM are continuously searching for the best Cava.  This was no more apparent that walking past the 38 vats,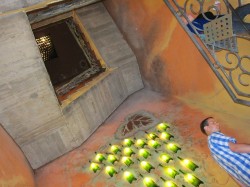 each one containing different wines ready to be blended.  With this vast array of wines to choose from, only the expertise of Cava enologist can marry and create the signature wine of ATM.
Next we were led downstairs to the cellar, where we were greeted with a fine collection of art.  Joan quickly showed us the newly built wing of the cellar which housed ongoing experiments involving first fermentations of Macabeo in the barrel instead of in a vat.  The hope is that the wine will absorb essences of the oak and provide a much weightier and supple wine from which to work with.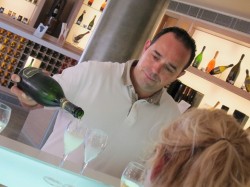 Finally the tour finished with the tasting, always the pinnacle of the visit.  First up was the 2008 Brut Reserve (4.5g/l dosage), 2007 Gran Reserve Brut Nature, 2007 Brut Nature Gran Reserve Barrica, 2009 Brut Rose. See our tasting notes in the e-book 50 Great Cavas
ATM signifies to true meaning of Cava, based on quality and tradition, like the wines, it leaves you impressed and wanting more!  If you want a full in-depth tour or if you just want a tipple, ATM is top of the list.
Matthew Smith