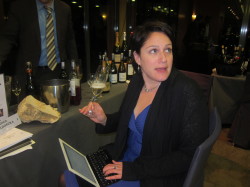 Q: What do you get when you cross three importers, a wine maker, an export manger, an event organizer and a Frenchman?
A: A Champagne vs Cava vs  Sparkling from Portugal taste-off
Day 2 of the Wine Pleasures Workshop Buyer Meet Iberian Celler culminated in a meeting of the senses.  What started as a comparison moved to a discussion on how they complement each other. Which leads one to ask if one is truly superior?
As Florida based wine importer Rick Musica put it, the start of the Cava and the finish of the Champagne would have been the perfect wine. But much like their regional backgrounds, each really delivered on it's on virtues.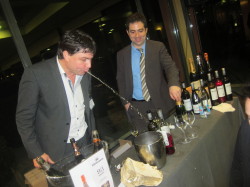 The Phillipe Fourrier Prestige Cuvee "Bel Vigne" (brought to us by French owned UK based importer Wines of Excellence)  is made from100% chardonnay. It is a top 20 gold medal finisher in the "fizzy wine competition" in France. Comments surfaced about the floral aromas, toasted bread notes stemming from 3 years aging in the bottle, and a persistent nutty flavor reminiscent of walnut skins.
Isaac Fernandez  from Vinicom Wine Export added that the Champagne had more of a wine quality than the Cava and Anthony Swift of Wine Pleasures added his surprise at the light and fresh mouthfeel.

The Finca Valldosera 100% Subirat Parent Brut Nature Cava clearly showed a more subtle, if not more citris nose. The bubbles seemed more integrated in the Cava and as Christine Vallet of Overland Trade declared, "I can drink the whole bottle of this Cava with my friends."  Christine being native French!
Brian Gwynn of New York based wine importer Specialty Wines and More summed it up well saying, there's place for the Champagne tasted as the aperitif or with a fried calamari and for the Cava tasted there is the porch and richer food.
A late entry 2010 Quinta Da Mata Fidalga Sparkling Brut from DOC Bairrada was well reviewed by all who tasted it. It was a blend of chardonnay, and regional Portugese grapes, bega, maria gomes, and arinto.
More information on Workshop participants Finca Valldosera and Quinta da Mata Fidalga can be viewed by clicking on the links above.
Finca Valldosera 100% Subirat Parent Brut Nature Cava one of the 50 Great Cavas 2012 scoring 93 points!
Julie Meyers