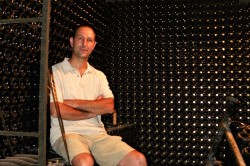 Three Generations of Grape Growers – Meeting the makers behind Mas Codina, a '50 Great Cava' producer. 
On a cloudless day, Mas Codina's vineyard offers clear views of Montserrat's mysterious peaks. Toni and Imma Garriga, the husband-and-wife team behind Mas Codina, stand next to me in respectful silence as we soak in the view. The experience is almost holy.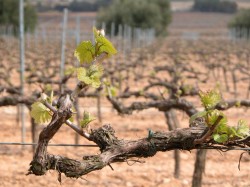 Located in Puigdàlber in the Penedès wine region, Mas Codina enjoys a microclimate suitable for viticulture. The Garriga family has been growing grapes for three generations, but it wasn't until 1985 that Toni's father, Antoni Garrega, initiated bottling. Few other cavas can claim utilizing grapes from their own vineyards as many producers acquire base wine or grapes from outside sources.
Buzzing bees hover close by. When he's not tending to four varieties of grapes – Macabeo, Xarel.lo, Chardonnay, and Pinot Noir, Toni indulges in beekeeping.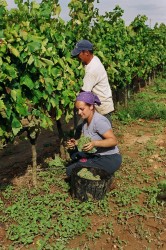 History and Modernity
The Garriga family's close ties with Mother Nature carry over to their family business.
"This year, we have started on organic wines to be more respectful to the environment," said Toni. "Thankfully, it is much easier to kick off new endeavors owing to the wider range of products available in this era."
He expounds his appreciation of modernity by explaining how steel tanks serve as cleaner containers in contrast with their cement predecessors and wooden barrels.
I am charmed by the juxtaposition of history and modernity at Mas Codina. As we move from the vineyard to the winery, Imma points out a 100-year old wine press in the garden. Inside, I photograph a faded idol of Jesus situated on a ledge above a cutting-edge machine. The stillness of history is punctured by the locomotion of speedy conveyer belts.
Good things take time
Mas Codina takes pride in the maturity of their cavas; their youngest wine is aged for a minimum of 24-months. Time instills complex and creamy undertones in their Bruts and Brut Natures.
Shared Histories
"So your husband's background lies in wine-making… But what's your family history?" I ask Imma.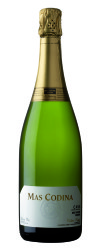 A smile spreads across her lips.
"It's my history now," she says.
Blood runs thicker than cava. 
Three cavas produced by Mas Codina are in the running for 50 Great Cavas 2014. They are: Mas Codina Cava Brut Reserva 2010, Mas Codina Cava Brut Nature Reserva 2010 & Mas Codina Cava Brut Nature Gran Reserva 2009.
50 Great Cavas Wine Tasting Tour here.
Read or download the '50 Great Cavas publication here.
50 Great Cavas 2014 is on Facebook and Twitter @50greatcavas #cava #50gc
Samantha Lim