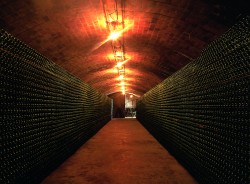 The small town of Castellvi de Rosanes is home to Canals Canals, a winery focusing on the production of cavas. My tour of Canals Canals started in the tasting room. And no, I didn't skip all the history and production processes and go straight to sampling wine, this room just happened to also house a huge collection of 19th century handmade, antique glasses from all around the world. It was an impressive collection to say the least.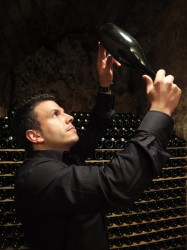 I then met up with Ramon Canals, the son of the Canals family that currently owns the business, who was my guide for the day and a cava expert. He first directed me towards their Cava Museum, comprised of over 2,000 items related to the production of wine and cava. I walked passed a collection of Greek carateras, Roman amphoras, wooden presses, Catalan glass, antique oenology books, copper stills and much much more. It was enlightening to understand the way that cava used to be processed and how the old tools and machines used to work. The vast collection of artifacts was compiled by Ramon Canals' father and it was evident through the tour of the museum that family has played a central role in the company since it was founded in 1903.
After following how cava was processed through the old machines, I was interested to see how the process works today at Canals Canals and how it might compare to other wineries that I have visited. I observed their bottling process and learned that they only bottle in January, February, and March and bottle approxamately 300,000 per year. Afterwards, we made the descent down the stairs to the beginning of the long maze of dimly lit cava cellars. Ramon expertly lead me from one cellar to the next showing me the different varieties and further explaining their process for storing cavas. Cavas must rest for nine months at a minimum but for the Reserve Cavas it is more than 15 months and for the Gran Reserve Cavas it is more than 30 months. With longer aging, comes more complex flavors and more bubbles.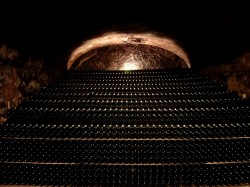 The cellar hosting the Gran Reserve cavas had air conditioning in the room in order to maintain a tempterature of about 18 degrees celsius. When I first walked in, I smelled a very pungent and overwhelming scent of wine. These cavas were made up of four different kinds of grapes: Garnacha, Pinot Noir, Monastrel, and Trepat. The next area I visited was the oldest part of the winery where organically produced cavas are stored and the vintage cavas. After visiting a few wineries over the past few weeks, this was the first one where I noticed organically produced cava. Moving to the vintage section of this cellar, I saw the 5V cavas, which are made up of five different varieties of grapes (hints the name) and are reserved for special tasting occasions.
In order to have a full comprehension of the different kinds of cavas produced at Canals Canals, I had to try three varieties. My life is tough, I know. I started with Marta, named for Ramon Canals' sister and daughter of the Canals family. It is a 2009 Brut Reserve. This cava was light tasting with hints of grapefruit, it was creamy and not too dry with a good acidity. This cava was especially created to appeal to feminine tastes and I have to say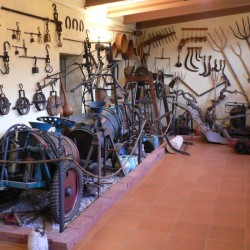 they succeeded. The next cava I tasted was the Duran Gran Reserve 2007 made up of Xarello, Macabeo, Parellada, and Chardonnay. Sitting in the glass, it illuminated a pale yellow color with a great deal of bubbles. The aromas produced notes of citrus and the flavor was crisp with a long aftertaste. Ramon suggested pairing it with appetizers, rice, sushi, fish, oysters, or seafood. Finally, I tasted the Rose Gran Reserve 2008 made of Pinot Noir and Trepat. As I put the glass to my nose to get a feel for the aromas, I immediately smelled fresh, floral scents and notes of strawberry and raspberry. The taste of the Rose Cava was perfectly balanced, full-bodied, and pleasant with a clean finish. Ramon recommended serving this cava as an apertif or combined with pasta, rice, blue fish, white meat, or red meat stews.
If you are interested in touring the wine museum at Canals Canals and/or doing a tasting of the delicious selection of cavas, you can make an appointment by emailing cava@canalscanals.com or calling 00 34 93 775 54 46.
Hannah Berle
For more on Canals Canals Cavas please feel free to download a copy of the 50 Great Cavas 2012 ebook.