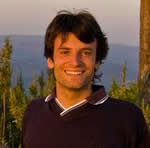 Speaker: Oscar Quevedo – Quevedo Estates & Emilio Saez Van Eerd
The blogging as a new marketing tool for a winery. I believe it can defenitively enhance the relationship between the winery, the tourists and the customers of its wines.
Wine blogging is currently becoming an important way to communicate with the wine lovers and enthusiasts. Wineries should definitively join this trend and use it to let people know how are they developing their businesses. The winery will get new consumers for its wines and a major exposition in the web. If we really want that people talk about us we must do something different and a blog from a winery is actually something new! We were the first Port Wine Company to blog. It has been a big effort but the results are starting to show up. The blog creates also a important connection between us and the tourists we receive. They always like to see and to show their friends the places where there were visiting during vacation and with a blog, where a lot of information is always available, tourists keep their memories fresh and often want to come back.
If you would like to chat to Oscar about his talk please feel free to contact him via his blog To view the preview programme of speakers at the Wine Pleasures Wine Tourism Conference feel free to download the brochure.