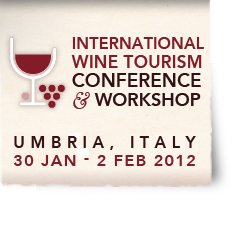 In June 2011 the Great Wines Capital Global Network conducted a market research project titled the Financial Stability and Viability of wine tourism business in the GWC. They ask around 500 wineries around the world some interesting questions such as:
How much does a wine tourism spend at the winery? In Italy (Florence) 200 USD, Napa 188 USD
What are the most important benefits for you as a territory? 69% Branding, 62% Revenue, 36% Employment
The most effective promotion tools are Tourist offices and Tour operators and travel agents. Only in the New World is great use made of social media channels. Europe still investing in printed material though this is in decline.
All interviewees consider wine tourism as financially viable except those in Florence and Mendoza. On the other hand 100% Napa wineries consider wine tourism as financially viable.
Conclusions of the survey: Income from wine tourism represents 20% of total income but this figure does not take into account wines sales after the visit. Wine tourism is a marketing tool which should be 100% integrated into a marketing plan as it's impact is important for image around the world.
The 2012 International Wine Tourism Conference & Workshop (IWINETC)will be held in the town of Perugia (Umbria, Italy) from January 30 – February 02, 2012. Next year's event will again feature a three-day conference programme with over 40 talks, a one-day workshop for agents and pre-and post tours to wineries in Campania, Marchè, Tuscany and Umbria. 
IWINETC Programme  
The International Wine Tourism Conference was and still is the first global event dedicated to the wine and travel sector, providing a place for wine, culinary and travel professionals from the around the world to meet face to face and openly address today's wine and travel opportunities. It is also the only event which has a platform to buy and sell wine and culinary tourism related products and services – the Wine Tourism Workshop. 
Organised by Wine Pleasures, this year's event will consist of five plenary sessions addressing wine tourism , as well as over 40 talks to generate and nurture practical discussion about a wide range of aspects related to wine and culinary tourism. Social Media experts will also host hands-on workshops, which will focus on getting wine tourism business better connected on the social media networks. 
The three-day conference is structured to encourage the acquisition of skills and information, the exchange of expertise and experience, and to foster networking opportunities. Each day includes an "After Conference" schedule consisting of wine tastings and in the evening, delegates have the chance to wine and dine in and around Umbria. On Monday 30thJanuary Jane Hunt Master of Wine and resident in Umbria some of the time will lead the Wines of Italy Grand Tasting. On Tuesday 31st January there will be a Grand tasting of Wines of Croatia led by newly formed Vina Croatia
Delegates can also participate in Pre-Conference and Post Conference tour programmes consisting of visits to wineries in Orvieto, Montefalco and Torgiano to discover Umbria's rich oenological heritage. 
The one-day Wine Tourism Workshop is for international tour operators and travel agents to hold private meeting with wine tourism experience providers from around the world. Particpating agents will complement their stay with one of three Fam Trips to choose from: Marchè, Tuscany or Umbria. Agents confirmed to date are travelling from many parts of the USA – California and New York and Florida being well represented,  Norway, Sweden, Germany, UK and even from Singapore, Philippines and Australia.
From January 28th  – February 5thwe will again feature a packed 8 day Blogger/Media Fam Trip which will include visits to wineries in Umbria and Campania. Amongst the carefully selected bloggers and media will be well known Hollywood based Celebrity Wine Review TV + many key and influential bloggers in the wine and travel sector
Notes for Media 
About the International Wine Tourism Conference and Workshop 
Founded in 2009 and held annually, the International Wine Tourism Conference and Workshop is organised by Wine Pleasures, a company which offers services to the wine and travel industry. The annual IWINETC brings together wine and travel professionals from around the world to duscuss, reflect and develop ideas. The conference programme offers many opportunities for professional contact and development.  
This year's conference in Porto (Portugal) attracted some 250 participants from more than 40 countries. Tour operators, travel agents, wineries, restaurants, hotels, tourists boards and offices, public administrations, in-coming, museums, journalists, bloggers and complementary service providers were all well represented in the event.  
Early bird Delegate fees for IWINETC 2012 are €250. Full details about everything happening at IWINETC 2012 
Sponsors 
The IWINETC 2012 premium sponsor is the Movimento Turismo del Vino. The Hotel Gio, Comune di Perugia Turismo, Regione Umbria, Vina Croatia and many wineries, hotels and restaurants are also providing sponsorship.