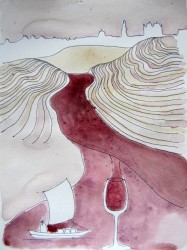 Oporto based Gabriela Gonçalves is a talented artist who paints with wine as well as with traditional watercolors and oil paints. Her unique wine paintings came to our attention during the EIBTM 2010 trade fair and  we quickly contacted Gabriela to explore the possibilities of  her providing a wine painting for the cover of the 2011 International Wine Tourism Conference Programme to be held in the Great Wine Capital of Oporto, Portugal from 31 Jan to 3 Feb.
In view of so many people telling us how brilliant the painting is and asking if it is possible to purchse it, we thought it would be a great chance to raise some money for a charity and auction the painting in a silent auction format to the highest bidder. Gabriela named Novo Futuro as her preferred charity to donate the sale price to.

Novo Futuro is a national non-profit organization and is  recognized as a Private Institution of Social Solidarity. Their objective is to support Children and Young people who do not have an adequate family environment, regardless of age, colour, gender or religion. Novo Futuro support Children and Young people and shelter them in homes with a good family environment to ensure their well being, affection and education.
If you would like to see the wine painting hanging on your wall in your winery, wine shop, wine bar, wine hotel, restaurant, travel agency office or at home then please make a bid and feel proud to have helped the children in need in Portugal.
Please complete the Wine Paining Auction Form if you would like to make a bid.