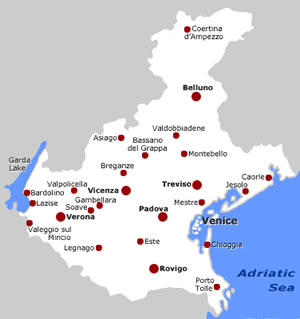 Wine Pleasures has chosen Treviso, Veneto for the 1st edition of the Wine Pleasures Workshop Buyer meets Italian Cellar. Served by two nearby airports, Treviso and Venice, it should not prove difficult for buyers to get to.
The Veneto wine-producing region is one of the most important in Italy both for quality and quantity. The region counts over 20 DOCs and a variety of sub-categories.
Perhaps the best known DOCs are Bardolino, from the town with the same name and surrounding the shores of Garda Lake, Valpolicella, and Soave. Other noteworthy wines produced here are the white Bianco di Custoza, the sparkling Prosecco, the Breganze, and the Amarone (a rich and powerful red from the Verona province).
The importance of winemaking in this region is underscored by the creation in 1885 of the very first Italian school for vine growing and oenology. In addition, Veneto was the first region to constitute the first strada del vino or "wine road". This first wine-touring road featured special road signs providing information on vines and the wines they were made into and joined the Valdobbiadene and Conegliano DOC zones crossing a series of hilly vineyards.
As one might expect there are several wineries taking advantage of the Wine Pleasures Workshop taking place close to their wineries and homes. These are Casa Vinicola Bennati (Verona) Soave DOC AND Valpolicella DOC, San Gionvanni (Treviso) Prosecco DOC di Conegliano-Valdobbiadene, Sfriso Pier (Treviso), Tenuta Grimani (Verona) Soave DOC and Garda DOC and Vicentini (Vicenza) DOC Vizenza, DOC Lessini, DOC Gambellara, DOC Berici.
Wine Pleasures limits the number of wineries from any one region. This means that participating buyers are guaranteed a wide range of wines from varied wine regions. Each wine region has a maximum number of 8 places which means there are still places available for 3 more wineries from the Veneto region.