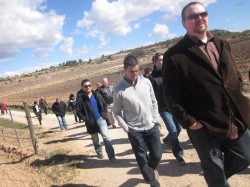 Clos Pons, a  winery is located in Les Garrigues district (Lleida) is set in a landscape dominated by olive and almond trees and distinguished by its dry and arid terroir. A group of wine importers were taken to the Pons estate as part of the Wine Pleasures Reverse Trade Mission and dropped seemingly in the middle of nowhere – no houses, no cars, no power and telephone cables – not even any birds! . Owner Eduard Pons and Export Manager Jordi Nolla greeted us and led us down winding dirt tracks to see recently planted terraced vineyards. While it was a fine sunny day as usual on a Wine Pleasures visit, the wind was up and chilling our ears. On we walked   as a loose group a bit like a scene from the well known Spanish Film – El Viaje a Ninguna Parte except we weren't travelling actors but wine importers looking for boutique wines for our respective markets.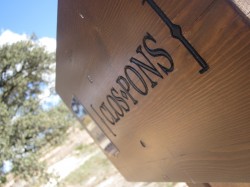 We stop by an old olive tree and we ask how old it is. Current generations are unable to provide an accurate answer. It's been there as long as anyone can remember says one of the Pons team. Someone hazards a guess at 300 years. Could well be answers Eduard Pons.
On we go on our viaje a ninguna parte and we decide to make our own film of the group walking and talking along the dusty track. We ask Eduard about pests to which he answers: "Our primary pest is the wild boar.  In the summer they love to feast on the syrah grapes when they are at their sweetest.  We don't like them eating the grapes but the worst part is they destroy the vines.  We have tried electric fences to keep them out but the biggest animals are able to break through the fence" So how do you deal with them we ask ? "Let's just say we now have a freezer full of wild boar meat" he replies.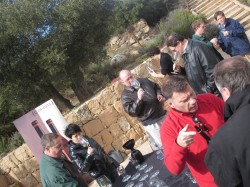 Finally, we see a small building with black bars  – it's a well! Yes we are pretty thirsty now but then we quickly see a masia  and then a table with glasses and wine! Yes! We have arrived. We are quickly poured a white wine – Sisquella followed by their two reds – Alges and Roc Nu which literally translates to nude rock.
The wine glasses are just incredible – long stems and high – excellent for practicing the double jump technique! Wine Importers join in and go for the double jump too.
Next up is a feast -no wild boar but a range of traditional catalan country food – pan con tomate, arbequina olive oil from the estate, cured ham and cheese. Then comes the savoury lamb chops and butifarras – everyone is mmming and wowing and the wines match perfectly – event the white holds it own.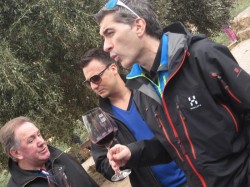 Wine importers leave impressed and several talk about how to sell these wines to their markets. Wine geeks, Internet, wine clubs and retailers are all discussed as out lets for the wine lover to taste and buy the Clos Pons wines.
The wind has dropped, ears are warm again and we leave with a memorable experience of Clos Pons wines and the challenging terroir responsible for these fine wines.