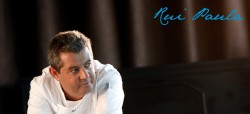 Chefs Álvaro, Domenico, Holli, Rui are all sharpening their knives ready for the International Wine Tourism Conference in the Great Wine Capital of Oporto from 31 Jan to 3 Feb 2011. Conference delegates and workshop participants are in for some pretty tasty treats as a result of top notch cooking from the best of Italy, Turkey, USA and Portugal.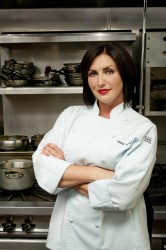 Chef Holli will team up with Chef Álvaro Costa on Monday 31 for the first conference lunch – limited edition wines from California will be available to try as well as of course from hosts, Portugal. RuiPaula will be shooting with Holli for her upcoming Season 1 Wine & Culinary Travel in Portugal online TV series.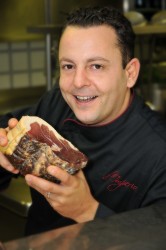 Chef Domenico D'Imperio, will be making the trip from Italy to prepare the Workshop dinner, sponsored by the Movimento Turismo del Vino for participating tour operators and travel agents specialised in the promotion and sale of wine travel holidays. Appetizer will be a mouthwatering Bruschette – toasted bread with fresh tomato, olive paste and Extra Virgin olive oil from Lazio. First course: "Schiaffoni" pasta  from Campania, with Anchovy , Caciocavallo Podolico cheese, (from Azienda Agricola De Cecca di Calitri) and fresh tomatoes and then on to Roasted Pork fillet in savoy cabbage and bacon, & Potatoes spiced with rosemary and to topped off with Nougats from Pietradeifusi & Dulcis wine "Semifreddo" Wines include Lungarotti, – Torre di Giano – Doc 2009 & Terredora, – Il Principio – Aglianico Irpinia Doc 2006.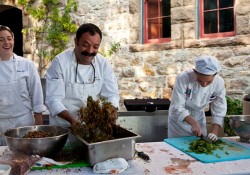 Chef Musa Dagdeviren from where east supposedly meets west will be typical Turkish tapa style lunch for conference delegates on Tuesday 2nd Feb so expect something in contrast to the popular Portuguese dish bacalhoa al horno. Lunch will be served with Wines of Turkey.
Local Chef, Rui Paulawith restaurants in the Douro and Oporto (DOC & DOP respectively) will be working with Hell's Kitchen Season 7 winner on her online wine and culinary travel programme and will be looking to take back some of the secrets of Portuguese cuisine and ingredients to her audiences worldwide.
So……………if you are a wine and food lover and you like grape escaping around the world then make theInternational Wine Tourism Confrence a date. Meet old friends and make new ones and feast on the culinary delights in stall from world-class chefs and,  in moderation of course, try wines from around the world in one single not to be missed event.