When I think of Spain I think of great Spanish culture, beautiful woman, and of course, great wine.
In the states, it's tough to find the winery that gives you a warm feeling of family tradition dedicated to wine and their consumers. It is more, trying wine after wine without great explanation or what went into preparing that certain wine. As we say a lot after a night of festivities, "It's like bar-hopping from one to the next." However, my visit to Torrens Moliner, TM, proved to me that there is such thing as learning while drinking alcohol, wine in this case.
Being a visitor in Spain, I wanted to take advantage of something that is not easily accessible in the states and that is to try the wine that is made from this country. I have been able to do so by buying wine from local markets and grocery stores but just recently I had the opportunity to try wine from a very private and local winery in Catalunya. To be exact, they are located very close to Sant Sadurní D'Anoia in La Fortesa, where their new winery construction is almost complete.
TM is a family owned winery that was started in 1986 and located in the heart of Sant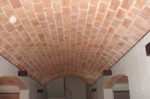 Sadurni d'Anoia and has since stayed small and private. To put its size in perspective to other wineries, its only international consumers it has partnered with is Mexico, Switzerland, and of course Spain. That was astonishing to me since wineries tend to find consumers pretty quickly. Yet, when finding out what TM's objective, this made all the perfect sense. As their mission statement states,"… We have opted to self-finance the projects we have undertaken, to keep the business as a dynamic, independent, constantly-evolving family company." Only making 60,000 bottles of wine a year, additionally, making 9 different wines and cavas, they are committed to their family and goals.
Having tried 2 of their cavas, Cava Reserve and Cava Gran Reserve, this company is on the path to do greater things. Not only making more wine throughout the year, but wine and cava's that are delicious and to everyone's liking. They have 3 different aged wines and each are easily identifiable by their unique colored cork stamps; white stamps mean 9 to 15 months of ageing, green meaning 15 to 30 months of ageing, and black meaning more than 30 months of ageing.
With their new winery, in La Fortesa, it is sure to help TM expand their consumer base and begin to gain more recognition around not only in Spain but around the world. Their objective of being a family tradition style winery, their new location has just that. A beautiful establishment, they are easy to get in touch with, always making themselves available for any last minute winery visits, but most of all, their dedication to being connected with its consumers and family.
Once they get their winery settled and rolling (taking advantage of the social media), expect big things with this winery. It is worth your time and wine tasting pleasures.
Jonathan Jewett, Wine Blogger for Wine Pleasures, jjay1218@yahoo.com
Here's a video we took during our visit to Torrens Moliner. What were the two nibbles we had during the cava tasting? Email your answers to info@winepleasures.com and if you win you 'll get a special prize.