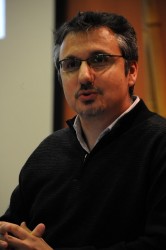 The 2011 edition of the Wine Pleasures Workshop Buyer meets Iberian Cellar was held over two and half days in the Hotel Montserrat, La Beguda Baixa, Spain and brought together some 40 boutique Portuguses and Spanish wineries and 40 international wine importers from around the world including Belgium, Canada, China, Germany, Japan, Lithuania, Norway, Russia, Sweden,  UK and the USA.
The event kicked off with a seminar titled The Surprising Diversity of Iberian Wines and was delivered by the well known and respected wine and travel journalist, Isaac Fernández Sanvissens.
Attending wine importers praised highly the quality and detail of the talk saying that it catered for both the novice and the more knowledgable on Iberian wines. With so many wine importers requesting the semniar slides we thought it would beneficial to make the seminar contents available for viewing.
Seminar Slides for The Surprising Diversity of Iberian Wines