Shouldering against the titans of Argentina, Brazil and Chile, Bolivia has undoubtedly got a battle on when it comes to export markets but to be fair wine has only been produced in Bolivia for 400 years or so.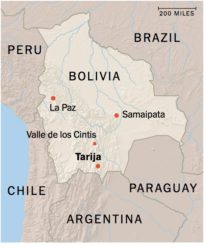 Almost all of Bolivia's vineyards are located between 1,600 and 3,000 metres above sea level. Indeed, Bolivia may very well be the country with the highest vineyard surface in the world. These lofty altitudes provide high UV exposure and wide ranging diurnal temperatures, giving deep coloured but fresh wines, with ripe tannins and high acidity and have been appropriately been given the name High Altitude Wines.
On a recent visit to Bolivia and with the help and guidance of the Wines of Bolivia Association, Wine Pleasures visited two of Bolivia's most extensive wine producing regions: The Central Valley of Tarija (El Valle de la Concepción – some 2,400 hectares of vineyards) around but mostly south of the tranquil colonial town of Tarija and to the popular tourist spot of Samaipata (Valleys of Santa Cruz – 100 hectares of vineyards) a 2-3 hour drive from Santa Cruz de la Sierra.
Tarija
The main varieties planted in the central Valley of Tarija are Cabernet Sauvignon, Syrah, Merlot, Malbec, Tannat, Garnacha and Barbera in reds and Muscat of Alexandria, Sauvignon Blanc, Riesling, Franc Colombard and Chenin Blanc in whites.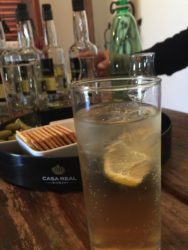 Bodega La Concepción
First up was a visit to Bodega La Concepción. Started in 1986 with day to day table wines along with Singani Rujero it has evolved into a Premium wine producer making monovarietal and blended wines from the following international grape varieties: Cabernet Suavignon, Syrah, Merlot, Sauvignon Blanc and Chardonnay all under the brand name of High Altitude Vines.
Singani Rujero Colección Privada
Distilled from 100% high altitude Muscat of Alexandria, it's a clear, bright punchy 40% alcohol spirit. Citrus on the nose with floral notes. Smooth velvety mouthfeel with lavender on the palate. Long lingering finish. Our host Carlos Paz Ide informed us that Singani works well in cocktails such as a refreshing Chuflay (ginger ale or lemon- lime soda), Sucumbé (milk, egg and cinnamon – a bit like eggnog), Yungueño (syrup and orange juice) and Té con Té ( hot black tea, cinnamon and lime – warms you up on the high mountains!).
Cepas de Altura Cabernet Sauvignon 2016
Deep intense colour. Red forest fruits on the nose with hints of pepper and fennel. Fruity entrance albeit a tad herbaceous making for a slightly bitter palate. Assertive tannin. Some vanilla on the lingering finish. Should pair very well with a leg of lamb cooked with figs or prunes and some of the local strong cheeses.
Bodegas Kohlberg
After an interesting lunch in Fogon de Gringo in Tarija consisting of mostly meat, rice and vegetables followed by a pancake desert with cloves and aniseed (Tojori) and a red from La Concepción we headed back out for our second winery visit to Bodegas Kohlberg.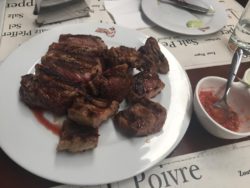 Just by entering the winery and seeing the huge towering and numerous inox tanks you would be right to guess that Kohlberg is the largest wine producer in the Tarija region. The wine we tasted was a blend of Cabernet Sauvignon (60%), Malbec (20%) & Syrah (20%) partly aged in new oak barrels. The wine is called 200 Años Gran Reserva and commemorates the bicentennial of Tarija.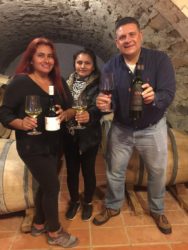 200 Años Gran Reserva Edition limitada 2017
Intense fruit aromas of Fruits of the forest, dark cherry. Delicate and discreet fruit on the palate which is light bodied but with strong tannins still  abound. Slightly herbaceous on a subtle fruity finish which is lingering.
Bodega y Viñedos Kuhlmann
At the family winery Bodega y Viñedos Kuhlmann we were hosted by winemaker Franz Molina Conzelmann. Pioneer Franz Kuhlmann founded the winery in 1930 and is well known for making Singani and more recently an interesting sparkling wine called Altosama Espumente de Altura a Brut made using the charmat method. Tropical fruit and floral notes. Lively fizz. Fruity palate. Slight bitter almond on the finish. It is featured as one of the 50 Great Sparkling Wines of the World 2019 and was awarded a Gold medal (95 points) in the annual competition organised by Wine Pleasures.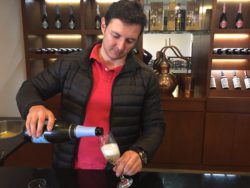 The Singani Los Parrales Reserva Aniversario (100% Muscat of Alexandria) also won Gold at the San Francisco World Spirits  Competition.
The winery recently built a state of the art new winery on the outskirts of Tarija in the Santa Ana district with great views of the Santa Ana valley and Alto Sama mountains.
The winery also owns the 5* Resort Hotel Los Parrales (where we stayed) 3.5 Kms out of the town centre which affords views of Tarija and the River Guadalquivír.
Campos de Solana
At Campos de Solana, a large, premium brand open for wine tourism we were hosted by winemaker Nelson Sfarcich and Production Manager Jorge Furio. Working with Malbec, cabernet sauvignon, tannat in reds and Riesling in whites, we were treated to their Decanter (Platinum) award winning wine Único 2016 on what was a flying visit.
Samaipata
For the last leg of our trip to discover wines and wine tourism in Bolivia we were to head to the Valleys of Santa Cruz de la Sierra which is home to only a few small wineries dedicated to the production of wine and Singani. The Valleys of Santa Cruz are located immediately to the Southwest of the Codo de los Andes between 18º and 19º of latitude south. Currently there are up to 300 ha planted but there is a potential to plant as many as 10,000 ha especially around Vallegrande well known by Che Guevara pilgrims. Our destination was to be the Uvairenda winery located close to the touristic town of Samaipata (a two and a half hour drive from Santa Cruz de la Sierra) in the foothills of the Cordillera Oriental.
Uvairenda
Francisco Roig, Head Winemaker & Co-Owner of Uvairenda has his vineyards  between 1700 and 1800 meters above sea level on terraced slopes, and is working with Cabernet Sauvignon, Tannat, Syrah, Malbec, Cabernet Franc and Merlot for reds and Torrontés, Sauvignon Blanc, Pedro Giménez and Chardonnay for whites. His wines can be best described as boutique and while we did not get the chance to meet Francisco we were able to talk to his colleague, Humberto Andrade in the Uvairenda office and shop in Calle Sucre #700 (Casco Viejo), Santa Cruz de la Sierra.
We tasted the following wines:
1750 – Pedro Giménez 2017 Citrus notes particularly grapefruit on the nose and buttery notes. Creamy texture, bitter almond entrance and palate. Long persistent nutty finish.
1750 – Tannat Vintage 2017 Blackcurrant, licorice, blackberry, herbs, cloves, Fruity entrance, spicy and slightly bitter palate. Pleasant tannins. Long lingering finish.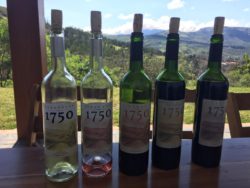 We asked about the 1750 on the labels expecting it to be a year something happened but in fact it is the minimum altitude of Francisco's vineyards.
While most have probably never heard of wines of Bolivia let alone tasted any, this could well be all set to change in the coming years as Wines of Bolivia get noticed at trade fairs such as Prowein and international wine competitions. With most tour operators and travel agents currently taking FIT and group travel to La Paz, Lake Titcaca and a flight down to Salar de Uyuni, there is much to be done by the Ministerio de Culturas y Turismo from a wine and culinary tourism perspective as little is currently being done to attract this niche tourism.
Article by Anthony Swift
Photos by Rosa Antelo Moreno