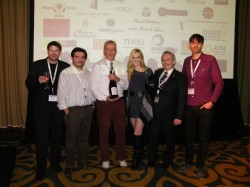 The Great Spanish Wine Quiz, part of the After Conference Programme at the 2011 International Wine Tourism Conference in Oporto proved to be very enjoyable and humbling. Winning team had three Spanish based players including the Carles Tubella (Vice Presidente de la Cámara Comercio de  Reus, Stephen Fallows (Faisca Turismo Consulting) and Carles Sala (Sala Ferusic Architects).
The quiz was hosted by Charity Winters of Celebrity Wine Review TV  and the wines were sponsored by Ferré i Catsús. Three wines from Penedès based Ferré i Catasús winery were served to contestants during the quiz: Cava Brut Reserve Nature, Xarel.lo and CaMerlot. Jethro Swift provided Spanish pronunciation clarification of Spanish and Catalan words. Winning team in the picture got a Ferré i Catasús Cava Brut Nature Magnum which they sportingly shared with losing teams.
For those of you who couldn't make Oporto 2011 here are the questions. How many can you answer?
How many Denominations of Origen are there in Catalunya?
What's the minimum length of time required in bottle before cava can be called cava? 
What's the minimum length of time required in bottle for a cava to be called Reserve.
How do you spell Xarel.lo?
Samsó in Catalan is what in Spanish?
Ull d'ebre in catalan is what in Spanish?
What are the 3 main grape varieties used to make cava in Catalunya?
What's the capital town of the Penedès wine region?
Which Spanish D.O. means bull?
Which city in Spain has the same name as a fortified wine? 
How many months in barrel is a Reserve wine from Rioja?
Txakoli is a type of wine produced in Spain – Where?
Can you spell Txakoli?
Bobal (a grape variety) will give you a red or white wine?
What is the Spanish name for Aragones?
Which town is the centre of the Rioja wine region?
What is the most famous white grape variety of Rias Baixas?
Which TWO wine regions have achieved DOCa?
What's the name of the River Douro in Spain?
What's the most flavoursome variety of Rueda?
Which mountain range would you expect to see in the DO Somontano?
Which 4 DO's would you find in Aragon?
Who is the owner and wine maker of Clos Mogador?
Who is the owner and wine maker of La Hermita?
What is the name in Valdepeñas for tempranillo grape variety?
What kind of varieties do they produce in Jerez (3 types)?
Which county is Jerez in?
Who is the chef of the El bulli restaurant in Girona?
What is the Spanish name for ham?
Why is the DO Utiel-Requena so named?
To which city do you have to travel in June to see bulls on the street?
Which Rioja wine company has a hotel designed by the famous arquitect Frank Gehry?
Where would you find volcanic terroirs in Spain?
What is the most widely planted grape in Spain and indeed the whole world?
What is Valencia's famous fortified wine? 
Which grapes are used to make the Camerlot wine?
How many months has the Ferré I Catasús Cava Brut Nature, aging in the bottle?
In which DO would you find the Costa Brava?
What is Anthony's (Wine Pleasures) preferred Spanish wine?
Who is your favorite British Wine lover living in Spain? (here´s a hint, he´s your conference organizer! Free point!)
Questions compiled by Anthony Swift (General Manager Wine Pleasures) Charles Metcalfe (Inn House Publishing) and Mara Calvo (Ferré i Catasús).
2012 International Wine Tourism Conference will be held in Perugia, Umbria, Italy from 30 Jan to 2 Feb.