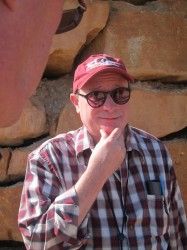 We spoke with David Sparrow, the President of Sparrow's Fine Wines in the USA to find out why he enjoys the intimate Wine Pleasures workshops compared to the large-scale wine fairs.
When was Sparrow's Fine Wines founded? What was the impetus behind starting the business?
We organized Sparrow's Fine Wines in 1997; we shall complete our fifteenth year in business on 31 January 2012.
You currently carry a selection of Spanish wines on your portfolio, what types/styles are most in demand from your cliental?
At the present time we have approximately two hundred Spanish wines in our portfolio.  Our clients are very open-minded concerning wine styles and types.  The greatest demand we see for Spanish reds, however, remains for moderately priced examples, 2-4 euro per bottle ex-bodega.
What will you be looking out for at this year's workshop?
We are looking for additional red and white wines from Penedes, Montsant and Terra Alta in Catalunya, for example, red wines from the region of Madrid, and red wines from Castilla-Leon.  We will consider other things of course— these are suggestions of our interests.
Having attended a Wine Pleasures workshop before, how would you compare the experience to a large-scale wine trade fair?  What are the strengths and weaknesses of both?
The Wine Pleasures workshops afford the opportunity to meet at length with producers and their representatives.  Larger wine trade fairs enable us to explore more wines, thus more opportunities, but those fairs can be overwhelming because of the abundance of wines on display.
What would be your most memorable Spanish wine experience?
I love the Priorat and its wines.
David attended this years Buyer Meets Spanish Cellar workshop on the 9th-11th of November 2011 in Sabadell. Next event up is the Buyer meets IBERIAN Cellar ad Buyer meets ORGANIC Cellar – 27 – 29 Feb 2012 in the gay seaside town of Sitges.