Good news for buyers attending the 1st edition of the Wine Pleasures Buyer meets Italian Cellar interested in Prosecco Spumante DOC Di Conegliano-Valdobbiadene.
Treviso (Conegliano) based Azienda Vinicola San Giovanni work mostly with the Prosecco grape variety. They also produce some  still wines: Pinot Grigio, Chardonnay, Cabernat Sauvignon, Cabernet Franc and Merlot amonst others. Here is what they have to say on Treviso, their wines and winery: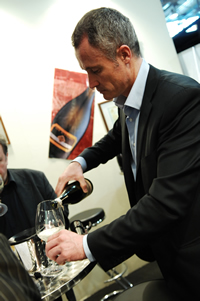 Treviso has always been considered one of the most important provinces in the Venetian region for its viticulture and winemaking.
This is mainly due to the fame of its white wines (especially Prosecco) produced in the hilly district, especially in the area of Conegliano. SAN GIOVANNI is an agricultural concern located right in the hills of this area. The entire Perini family works in the business and this is why SAN GIOVANNI is a perfect combination of the experience and tradition of their grandparents, the passion, culture and continuity of the adults and the enthusiasm of the younger ones for all the innovations in the enterprise. The family has passed down the traditional vintage and winemaking techniques from one generation to the other, thus producing delicious wines that develop the perfumes and tastes of times gone by.
If you would like to contact San Giovanni please do so through their website – only in Italian I'm afraid. If you would like to join Mr Alberto Perini at the Wine Pleasures Workshop Buyer meets Italian Cellar please complete a Registration Form.