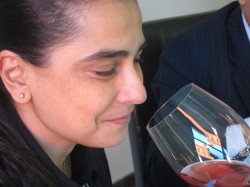 Vinipassion s'est donné comme mission de vendre des vins de qualité aux restaurateurs, hôtels et autres amateurs et collectionneurs du Québec à travers les magasins de la SAQ, mais aussi avec un programme d'importation privée important. So that being the case Pascale Vared, Vice-President of Vinpassion, embarked on the long journey to the Workshop Buyer meets Spanish Cellar. Before her departure we  spoke with her to find out what she would  be on the look out for at the Workshop.
1. Can you please give us a bit of a background on Vinipassion, when was it founded and what was the reason behind getting into the wine trade?
Vinipassion was founded in 2004 after the owners had worked for more than in decade in Canada and the USA for various international and large wineries in sales and marketing roles.  The access and confidence from premium wineries that wanted to become active in Canada developed into an entrepreneurial idea to operate differently than other agents. A significant startup investment was made by the owners and a Belgium partner to motivate state monopolies to buy our fine wine portfolio.
2. What is your speciality?
Our specialty is premium wines mostly from Italy and California with various unique tasting rooms in the greater Montreal area that would entice all segments of the trade to do business with us. We have successfully maintained and added listings over 6 years by guaranteeing the sales to the government body SAQ in less than 12 weeks, thereby ensuring reorders. We continue to invest a large part of our commission revenue to maintain the reputation and success of Vinipassion and our winery partners.
3. You currently import a nice selection of Spanish wines, what types/styles are most popular among your cliental?
The classics like Rioja and Priorat remain very popular up to the mid price point.  Our first class cava producer, Pere Ventura is also very successful as the category is growing rapidly. In Calatayud, we do well with Villa Marquez at the opening price point.
4. What will you be on the lookout for at this year´s workshop?
More delicious wines to continue to diversify the portfolio. Also a new rosé to propose for 2012 and perhaps our first spanish white wine.
5. What wine will you be uncorking this weekend?
Familia Belaso Homenaje Rosado 2010, a Delicious Dry Rosé !
Pascale attended this years Buyer Meets Spanish Cellar workshop on the 9th-11th of November 2011 in Sabadell. Next event up is the Buyer meets IBERIAN Cellar ad Buyer meets ORGANIC Cellar – 27 – 29 Feb 2012 in the gay seaside town of Sitges.