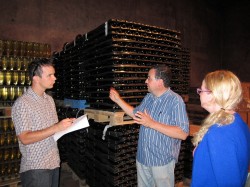 Over the month of August, the team at Wine Pleasures will taste 50 Cavas from an array of producers to help the consumer understand the great wine that is Cava.  The Cavas will be sorted into five categories according to age (Brut Nature, Brut, Rose, Reserva, Gran Reserva) and marked using a 100 point system.
The team will also visit the wineries and provide profiles on the producers along with the wines tasted.  At the end of August, this e-book will be available to download from the Wine Pleasures website for free which will provide all the information for the on and off trade and consumers.  The book will inform the consumer on the history of Cava, how the special wine is made and contact details of the wineries involved.  
Stay tuned for more information over the next month as the quest for the fifty greatest Cavas begins!
List of Participating Producers:  Cava Berdié, Cava Rimarts, Bodega Sebirán, Bodegas Murviedro, Canals & Munné, Castell Dór, Cava Agusti Torelló Mata, Cava Capita Vidal, Celler Vell, Ferret Guash, Mas Bertran Viticultors, Mas Can Colomé, Mascarò, Mas Codina, Parxet, Raventòs i Blanc, Rovellats, Torrens Moliner.
Matt Smith, Editor 50 Great Cava Project