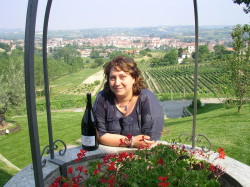 Susanna Galandrino, shares with us the history and star products of her precocious, award-winnng winery, La Gironda, located in the provence of Asti, Italy. Although it is only a little older than a decade, the wines of La Gironda have already attracted much acclaim. Susanna and her husband work full-time on the ecologically-friendly winery to produce their multi-award-winning wine. The winery will soon participate in the Workshop Buyer meets Italian Cellar 4-6 November (BMIC).Susanna tells us of the extremely positive experience she has had with Wine Pleasures Workshops which has led her to eagerly anticipate this year's BMIC event.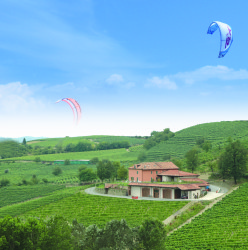 How long has La Gironda been producing wines? My grandparents owned vineyards, but they simply sold the grapes. We only recently started to produce and bottle wines, in 2000.
What makes your wines stand out? The winery is situated in Nizza Monferrato, and my wines are truly a product of the unique terroir of the area. Our area is best-known for the Barbera d'Asti DOCG. In fact, it is only here, in Nizza and the seventeen surrounding villages, that we can produce Nizza, the pride of the Barbera d'Asti. Our terroir is also renowned for its aromatic wines, such as Moscato d'Asti DOCG and Brachetto d'Acqui DOCG.
Tell us more about a special awarded wine you produce: The Moscato d'Asti. While Barbera d'Asti is our most important production, we also produce a great Moscato d'Asti. In April 2013, we were awarded the Wine Enthusiast Awards' "Top 100 Best Buy 2012" for our Moscato d'Asti!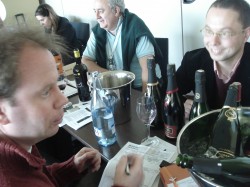 Having participated to BMIC 2012 Umbria last year, how would you compare the workshop methodology at Wine Pleasures to a large-scale wine trade fair?  What are the strengths and weaknesses of both? We exhibit to large-scale wine fairs too, such as Vinitaly and Vinexpo, but personally I prefer the workshop methodology of Wine Pleasures. In a Wine Pleasures workshop I can be sure that the buyers I meet are exactly what I'm looking for and I in turn am what the buyers are looking for, thanks to the information we are given about one another prior to meeting. Moreover, we are in the most favourable conditions for buyers to experience the best qualities of my wine. I have time to speak in-depth about my winery and wines, and to get to know the people sitting before me. During this meeting, our relationship immediately becomes much more personal and intimate than would be possible at the brief meetings that take place at a large-scale wine trade fair.
If you are a wine importer and would like to attend the upcoming Workshop Buyer meets Italian Cellar (4-6 November 2013) as an invited buyer, with the opportunity to meet La Gironda, there are still places available!