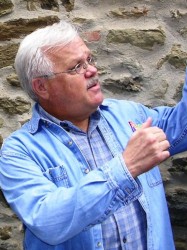 Harold D. Partain of Epicopia Culinary Journeys has worked an impressive forty-years in the travel industry. Harold is senior partner with McCabe Travel Group based in Rockwall, Texas, which is just outside of Dallas. Harold currently serves as the Vice-Chairman, Board of Directors of the International Culinary Tourism Association (ICTA) and is Chair of the Educational Work-group that created the Certified Culinary Travel Professional (CCTP) program offered by ICTA. After many years of working with cultural groups, museums, and alumni organization, Harold founded the company Epicopia Culinary Journeys in 2006, becoming Executive Director. Harold also consults on developing and growing culinary tourism companies and markets through the ICTA Speakers Bureau. 
As one of the attendees at the 2011 International Wine Tourism Workshop , we had the opportunity to speak with Mr. Partain.  Below are Mr. Partain's answers: 
1) As the 2011 Wine Conference takes place in Porto, Portugal this year, how do you view Porto as a wine destination? 
An excellent choice and one I have been interested in visiting for some years now. We have a small group scheduled to visit the Douro River valley area in the fall of 2011 and this conference gives me an opportunity to explore and learn more. River cruising has been a great way for us to introduce our clients to food and wine tourism. Porto and northern Portugal are recognized as a potential wine destination but unfortunately not so many clients have actually been to the region. This conference will vastly help to raise the awareness of the area and I expect to see interest in the area growing.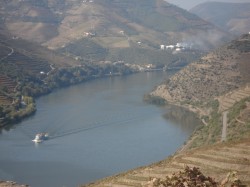 2) What could you tell us of your typical clients tastes in wine and which destination do you find to be the most popular for wine tours? 
Our clients have a wide range of expertise and interest. We have clients who are avid collectors building their cellars and novice beginners wanting to understand why wines can vary so much from one area to the next. Education and first-hand experience with local vintners and growers is paramount. Our clients want to get in and taste the product, even the dirt to understand the role terrior plays in the uniqueness of a region.  Italy has been a favorite for many years as well as Spain and France. The emerging destinations are Chile, Argentina, Canada and Portugal. We see limited wine visitors to South Africa, New Zealand and Australia but these are generally more luxury/gourmet travelers. Overall we see wine specific tourism growing around the globe. We work with many individuals and small groups for custom designed programs and also offer a growing series of small group departures for like-minded clients marketed under our Epicopia Culinary Journeys label.
3) Working in a growing wine market, what can you tell our audience about wine tourism in Texas?  
A significantly growing market, Texas is now the 5th largest producer of wine in the USA. Few realize that the first planted vineyards in what is now the USA were as early as 1662 by Spanish monks in Texas. Texas has the oldest continuous same family run vineyard and winery in the USA. There were only about 46 wineries in 2001 and the official 2009 total was 181. Now we hear there are over 200. This is excellent growth. The exciting thing is; Texas has a lot of territory to continue to expand. A wide variety of grapes are being used in Texas. Even the indigenous wild Lenoir grape is being cultivated. One of Texas contributions to the old world wine industry comes in the person of T.V. Munson. His experiments and work with strong root stock saved wine growing in Europe. His work provided European grape growers with phylloxera-resistant stocks, allowing them to recover from the devastating epidemic of the late 19th century while still growing the ancient Vitis vinifera cultivars.  
There are four distinctly different growing areas within Texas. Texas produces a wide selection of Port wines so a visit to Porto will be a chance to go to the original source! Each region of Texas has great potential and varies widely from the others. Many wineries understand the importance of tourism and have created restaurants, accommodations, and hands-on experiences in addition to tasting to attract visitors. The State has developed several Wine Trails and the wineries have been very creative in bringing out the visitors.  We owe a lot to the Texas Department of Agriculture and the Go Texan program. Drawing from three of the largest suburban areas in the USA Texas wine tourism is set to grow for many years to come. By the way, there are FOUR wineries within the city limits of Dallas!
4) What wine destination would you suggest as the site for the 2012 wine conference? 
Would Texas be appropriate?  As a growing market and as an example of success in the face of hardships Texas is perfect. Maybe not the next conference but certainly a place to keep your eye on and especially in how tourism plays a role in the growth of the wine industry of the state.  Personally, I am eager to experience Argentina wine in depth! Can we do Argentina next? 
5) With wine tourism growing across the globe, how would you describe the differences between the old world and new world wine cultures? What do you view as the strengths and weaknesses of each? 
New World vs Old World?  The advantage of Old World I believe is in the uniqueness of each regional style and even the diversity within the region. Much of the New World got a bit caught up in trying to make the best wine with old world vines instead of figuring out what varietals do best in the new world.  No two areas are the same. I dislike blending and blending to get a certain taste. This homogenizes wine. Wine should reflect the terrior of where it is grown. This is the uniqueness of the region. Take Nova Scotia in Canada. They completely understand they have to find, develop and grow cool weather grapes. Their efforts are beginning to really pay off. Those unique white wines are hands down the best to pair with the abundance of seafood available. The beauty for tourism is; Nova Scotia will never be able to grow enough volume to ship around the world, or even all of Canada for that matter. What this does is; you have to visit Nova Scotia to experience the wine! This is very smart business sense. More wine growing regions need to adopt this concept and especially in the New World. 
6) As Portugal is of interest to you, what other countries do you take/would you like to take wine lovers to?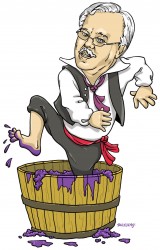 Personally, again I long to explore Chile, Argentina, Canada, and more of central Europe. Most of our travel experiences at Epicopia feature food and wine as a reflection of the art and culture. It doesn't matter where we go we search out local, organic, seasonal and sustainable produce, local artisans and food craftsmen. Our programs to Turkey incorporate local wine. Few people realize Turkey is the fourth largest country in acreage under vine. Our culinary tours to Thailand also include a visit to a vineyard. India will soon be a massive market for wine and we see vineyards already in production there. There are some destinations you just figure you will have a wine experience in but it's the unusual destinations we love finding and surprising our guests with. Our problem is finding Experienced Directors who specialize in these emerging regions with an understanding of the food and wine. Latin American countries are ripe for culinary/wine tourism. Are you aware that Mexico created a Wine Trail this past year?  True, some destinations are in the infancy stage but each destination has a unique opportunity to create a growing business around their style for wine and food tourism. We have had limited involvement with inbound tourism to Texas but have been eying wine tourism as our re-entry into Texas, our very own backyard. Not to mention we now have vineyards and wineries in all 50 States in the USA!
If you are a wine tourism experience provider looking to reach out to new clients then you should really be attending the 2011 International Wine Tourism Conference and Workshop and make a date to meet Harold, and some 40 – 45 other travel organisers at the Workshop