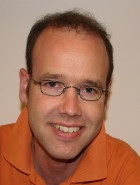 Sebastian Ernst of Sebastian Ernst & Petra Wagner, based in Germany, specializes in wine, golf and language travel, offering individual, or combination packages. Mr. Ernst is an entrepreneur with extensive knowledge of the Leisure, Travel and Tourism industry. He can speak German, English and Spanish and is a huge golf fan!
As one of the participating travel agents at the 2011 International Wine Tourism Conference, we had the opportunity to speak to Mr. Ernst about German Wine Tourism. Below are his answers:
1) As the 2011 Wine Conference takes place in Porto, Portugal this year, how do you view Porto as a wine destination? I guess it is a very well known destination for Wine, but for Wine tourism up to now people prefer more destinations in Spain, France and Italy.
2) As a travel agent based in Germany, what could you tell us of your typical clients tastes in wine? Which destinations do you currently offer to your clients? Most of our clients are between 35 – 55 years old, normally with a higher income and they prefer independent traveling, we are offering Spain, South Africa, France, Germany.
3) As you work with a number of different industries, such as food, wine and hospitality, what do you find to be the strengths and weaknesses of each? Which industry do you find yourself dealing with most when you organize a trip? Mostly we are working with the hospitality industry. Sometimes the hospitality industry offer us full packages including wine and food specials, so it is easier for us to handle it with only one partner. For the Wine and Food Industry sometimes it is difficult to get good prices, because they do not offer good net rates or commissions.
4) With wine tourism growing across the globe, how would you describe the differences between the old world and new world wine cultures?What do you view as the strengths and weaknesses of each? I guess the new world of wine for example South Africa, Australia, they have a very good marketing and they are more flexible in working with the tourism industry. In Germany for example it is very difficult a lot of wineries don't know much about Wine Tourism and the opportunities. They just want to sell their wine, but they are not flexible and no open mind for new ideas.
5) What wine destination would you suggest as the site for the 2012 wine conference? I would suggest Italy or Austria
6) As Portugal is of interest to you, what other countries do you take/would you like to take wine lovers to?We are working on the oversea destinations like South Africa, Chile, Australia and more to the not so well known wine regions in Germany like Saale-Unstrut, Sachsen, Ahr etc.
If you are a wine tourism experience provider looking to reach out to new clients then you should really be attending the 2011 International Wine Tourism Conference and Workshop and make a date to meet Sebastian, and some 40 – 45 other travel organisers at the Workshop.