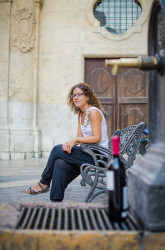 As many of our readers know, at the end of August, we conducted our very first sparkling wine tasting here at Wine Pleasures. Sparkling wines from all over the globe entered into our competition, and we were very excited about the prospect of providing our readers with a whole new set of ´must-drinks´ to add to their wine lists. Having begun preparations for this event several months prior, we knew that we needed to procure several necessities even before we received any bubbles: The judges. We sought only the most experienced and discerning experts to carry out this difficult task, and held our breath as we waited for their reply… And luckily, they all enthusiastically agreed to take a seat at our tasting table, with their well-educated and versatile taste buds at the ready!
One of the first people we contacted was, surprisingly, someone who hadn't been working in the wine industry for very long at all. However, what Ruth Troyano Puig lacks in specific work field experience, she certainly makes up for with a lifelong passion and healthy thirst for wine knowledge.
Born in Reus, in the area of Tarragona, which was the birthplace of architecture genius, Antoni Gaudí, and has always been an important producer of wine, Ruth grew up in the perfect location to cultivate her devotion for wine. Having worked as a news editor, radio station presenter, press secretary, and even as a head of department for the Catalan government, she had never ceased pursuing a more fulfilling professional life. Fortunately for us, just two years ago, she has admittedly come closer to fulfillment than ever before. She decided to go back to school to study for a master's degree in wine tourism while simultaneously beginning to write her online blog Vi·Moments·Persones, which focuses on the idea of presenting the most perfect combination of all: Wine, moments, and people. Through this blogging experience, she has had the opportunity to meet with several influential individuals in the wine world of Catalonia and beyond.
Now that Ruth has broken into the industry and made a name for herself as a freelance wine journalist, she has decided to go even further in her quest for knowledge and is taking university classes to become a sommelier. Currently, she is utilizing her journalism skills by collaborating with several companies, including Cooperativa of Falset Marçà and the Hotel Hostal Sport—both located in the Priorat—and the start-up Vidirecte.cat, which sells catalan wine online.
50 Great Sparkling Wines of the World will be available to download free by 1 October 2013. Click on the photo for a free copy: