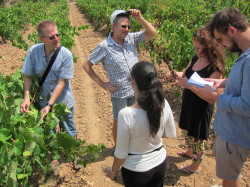 Vineyards surround the village of Les Gunyoles d'Avinyonet reaching out from the valley to the steep hills towering (Massís del Garraf) over this small community in eastern Penedès. It is here that in 1985 Josep Cuscó Berga started producing wines and cavas under his family name. With the help of his sons the winery expanded and grew to be a modern facility that holds both the production compartments and an exhibition area focused on bringing out the connection of wine industry with local history and culture. The building housing vast cellars descends deep into the very midst of the hill on which it stands. Natural limestone walls surround numerous wine-shelves and allow for perfect temperature and humidity to be maintained which is essential to the process of fermentation and ageing.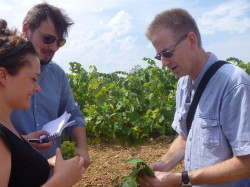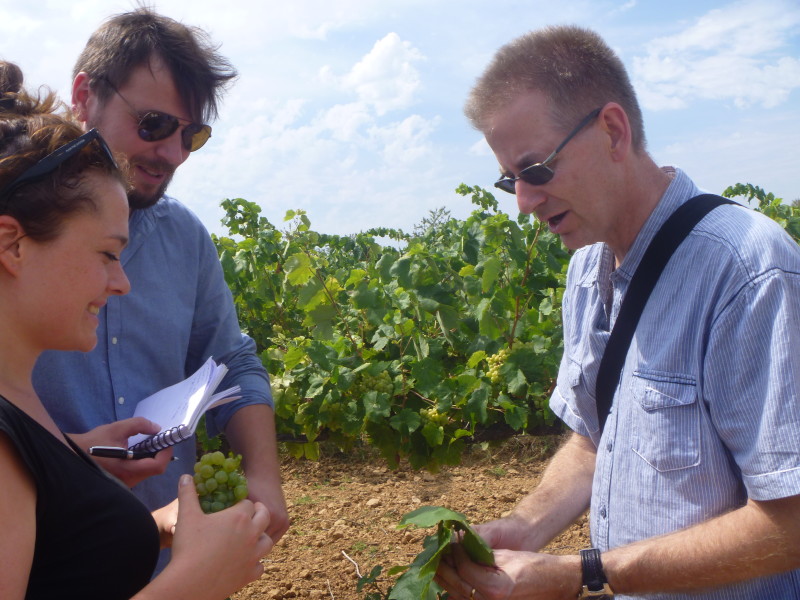 The same limestone contributes to local soil composition which is a key element of Cusco Berga products' unique taste and flavour. In the mountainous area of the vineyards even the 40 years old Parellada grapes have to struggle with unfavourable, harsh conditions but are an absolute must in the final cava blend providing the much needed acidity and mineral freshness. The three brothers that now manage the winery struggle to keep the plants prospering in this hostile environment but it is often a fight with overwhelming odds as dangerous fungi pose a constant threat to cultivation. It is a daily routine for the owners family to supervise their crops and sometimes even manually inject oxygen into the most needy subjects.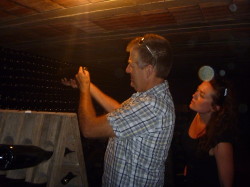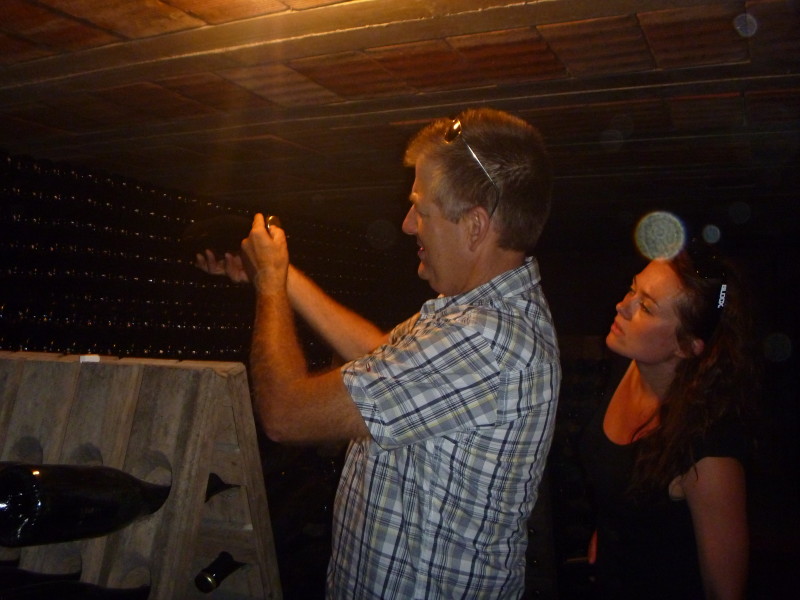 But not only the sloppy parts of the 35 ha vast estate are in danger of pest and illnesses. In the valley where most of the grapes are grown (yielding 10.000 – 12.000 kg per ha yearly while in the mountainous area – only 5.000 – 6.000 kg per ha) the remedy is the usage of pheromones that makes ecological farming (contributing to a substantial part of the winery production) possible. Among the vines the sweetness and ripeness of fruits is measured each day and all the varieties are attended to with same care, be it barely fruit-bearing 3 year old Cabernet Blanc or rare Moscatel de Alejandría (the winery sells 100% Muscat among its other wines). Cusco Berga combines professional approach with love and passion to wine at every level in consent with the family spirit and wine-making
traditions.
Tasting Notes from 50 Great Sparkling Wines of the World 2014
Brut Nature Reserva Eco 2011 – Fine lively bubble. Citurs notes.  Crisp entrance. Notable but pleasant acidity. Subtle citric flavours.
Cusco Berga received Gold and Silver awards in the annual publication 50 Great Cavas 2014