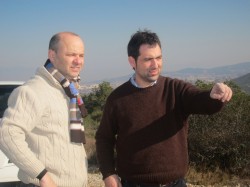 The Penedes region is Catalonia's largest region in terms of size and production, and covers an area of 27,000 hectares of vineyards. Varieties include Macabeo, Chardonnay, Subirat Parent, Xarel·lo and Parellada white vines, as well as the red varieties of Mazuela, Garnacha, Samsó, Ull de Llebre, Monastrell and Cabernet Sauvignon.
The Finca Valldosera, located in the Massis de Garraf, produces excellent estate cavas and wines in an interesting microclimate in the region of Penedes.  The winery is situated approximately seven kilometers from the Mediterranean Sea, and the hills forming the Massís reach a height of 500 meters, forming a surprising craggy landscape which is made up of two very different parts: one of chalky and sedimentary rocks and the other, a reef of reddish sand on the eastern part of the plain's nature reserve.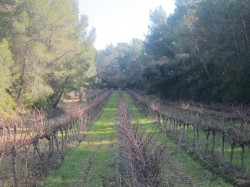 As the vineyards of Finca Valldosera have a wide variety of soil types on all sides of the mountain range, they are able to plant a variety of grapes, like Tempranillo, Syrah, Merlot, Cabernet Sauvignon in areas which will best suit their performance.  The vineyards are also located on a reserve and the lush plants impart flavors of rosemary and balsamic in the wines.  Additionally, given the altitude of the mountains, wide diurnal temperatures and the beneficial climate with wind and humidity coming in from the ocean it is an excellent climate for cavas, so it's no surprise that their three cavas are rated between 90-92 parker points, and have been given awards at the International Wine Challenges in 2008 and 2009.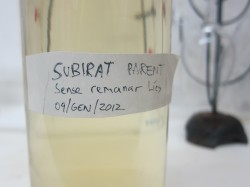 Their top rated wine is made with 100% Subirat Parent, which is astonishing to most people who think of the Subirat Parent as a blending grape.  However, the microclimate of this vineyard fosters a high level of acidity and highlights the grape's medium body and floral aroma to produce a very unique cava, rich in flavor, color, and aroma.  The other two wines, MS 4.7 and Valldosera, are blends of Xarel·lo, Chardonnay, Parellada, Macabeo and Subirat Parent, and are rated 91 and 90 parker points, respectively.
Wine Pleasures is proud to find a variety of vineyards, like Finca Valldosera, who are looking to show their boutique wines to buyers around the globe at this years Buyer Meets Cellar workshop on February 27th, 2012 in Sitges, Spain.