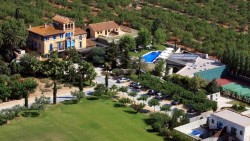 Sunlight pours through the tall windows that bound the lobby of Mas Passamaner, where I'm sitting on one of the room's oversized plush couches surrounded by sleek wicker accents. The manager offers café con leche as he explains that the five-star hotel served as a private home for most of the 20th century, until it was renovated and opened to the public in 2003.
The main house is a striking modernist building adorned with deep blue shutters and ceramic engravings. All of its original 26 rooms have been preserved since the 1920s, but other amenities like a swimming pool, tennis courts, two private villas, and a spa have been built around the picturesque property.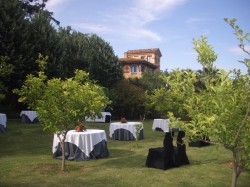 In the back garden, fruit and cypress trees shoot up from the ground like a modern day Van Gogh painting. While the hotel typically entertains guests from Barcelona and Tarragona looking to relax for a long weekend, its beautiful setting and impressive restaurant make it an ideal setting for a Spanish getaway wedding.
At night, the garden is magical. Candles are scattered across the lawn and colored lights illuminate the luxurious "Greenhouse" – the glass dining room that seats up to 300 guests. The wine menu seems endless, with over 500 wines from Spanish regions like Priorat, Penedes, and Terra Alta, as well as a full international wine list. (For the exclusive cellar tour, see the video below.)
Michelin-starred chef Joaquin Koerpin will cook a feast of Mediterranean food for wedding guests, and for a few extra euros Koerpin and his team will showcase their talents on the terrace, dicing and grilling Catalan ingredients to make dishes like skewered scallops and Jamon Serrano croquettes.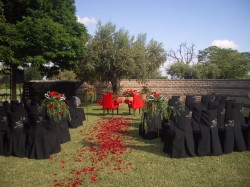 The bride and groom can choose to rent the entire hotel or pay by the head (about 150-200 euros). Some splurge on additional luxuries like fireworks or use of the heliport, which will cost a bit extra. Upon request, the accommodating hotel staff can also organize private winery visits around the area, making Mas Passamaner a wedding couple's (and wine tourist's) dream. 
Wine Pleasures organises winery weddings and mostly for norwegian nuptials.
Kerrie M. Lopez, Wine Travel Writer for Wine Pleasures