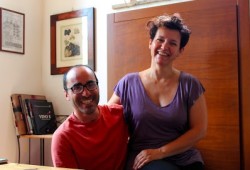 Pamela Brizzola is co-owner of Le Senate winery with husband Giulio Visi. Pamela takes the time to chat with us about the successful winery, which is located in the enchanting Marche region of east Italy. A dream of the couple was to produce fine wine which paid homage to the full-bodied, long finish which is characteristic of wines from France's Bordeaux region – and  Le Senate certainly succeeded in this ambition. Read on to hear of the intriguing history behind the winery's name, the charms of the Marche region, and the different wines which they produce from their superb terroir. Le Senate will be presenting their wines this year in Arezzo at our Buyer Meets Italian Cellar Workshop in the first week of November.
What is the meaning behind your name and your logo?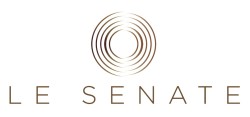 As we love to say, Le Senate is a name imbued with history, tradition and terroir. Until the seventeenth century, it was custom in our region to divide the land around castles into senate, concentric bands, up until the perimeter of the city. Each band would specialise in certain crops: there would be a separate band for vegetables, vineyards, and olive gardens. Our winery's name refers to that second senata, where the vineyards were grown. We are proud to honour that ancient custom of the land; the same land that, today, we work with love and respect.
Tell us about the terroir in Altidona and the Marche region.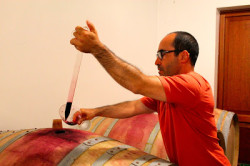 Le Marche region is 'Italy's best-kept secret', at least according to the television adverts! But I can confirm that for once the advertising is true. Visitors to Le Marche will discover a leisured, easy way of life, a community of open, welcoming people, and the breathtaking landscape of beaches and dramatic mountains.
And if you visit Le Marche, you'll have the chance to experience Le Senate and our unique wines. We are set apart by our Bordeaux-style wines, made from Merlot, Cabernet Sauvignon, Cabernet Franc and Petit Verdot. We have a great respect for our land, and our unique terroir has turned out to be perfect for cultivating these wines.
Our lands have been cultivated for wine since ancient times – as long ago as the first century AD, the vineyards and their wines were praised by Pliny the Elder. Today, that sense of history imbues the area. Our vines  stretch over a plateau overlooking the Adriatic sea and caressed by its breezes. Here, the silt and sand-based soil contains a layer of calcium carbonate concretions (cacinello, as they are locally known) which provides the perfect environment to ripen grapes.
What can you tell us about the kind of consumers who drink your wine?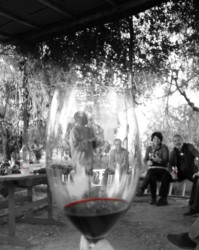 We want our clients and friends to speak for us and some of them have been saying:
"If you are looking for a visit to a local winery, a chance for a wine-tasting, and you're tired of trudging around huge wineries which mass-produce their wine, then look no further, because Le Senate is the place to go! The delightful couple, Pamela and Giulio, who own this vineyard, are both wonderful and welcoming and take you on a personalized tour of the cantina and vineyard overlooking the Adriatic Sea. The tasting, under the shade of a lovely old barn, is accompanied by delicious salumi marchigiani (local charcuterie), cheeses, etc.. However, the main event is the wine itself! Giulio is passionate about his winemaking and the result is a quality red smooth fabulous Barbula wine. Can't wait for the Cacinello wine to be ready next year!'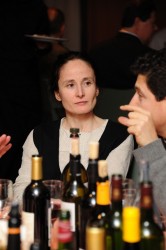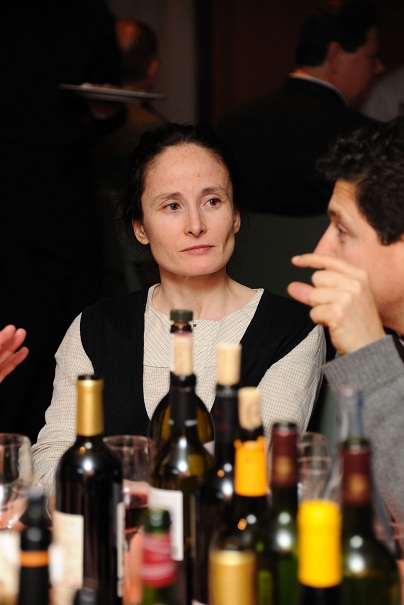 How would you compare the workshop methodology at Wine Pleasures to a large-scale wine trade fair?  What are the strengths and weaknesses of both?
The workshops of Wine Pleasures allows buyers and producers to meet in a close and relaxed, but still professional, environment. Producers have the time to introduce their wineries and products in full detail, and to tell the stories behind each vintage and wine. Buyers have the chance to really get to know the wineries.
Which of your wines would suggest for a birthday party?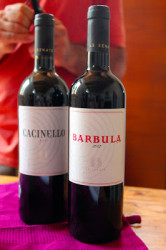 Full-bodied, smooth and incredibly sophisticated, our Cacinello is definitely the ideal companion for a birthday party, either as a gift, or to share with family and friends. It is a stellar pairing for grilled meat, braises, game, cold cuts and mature cheeses.
And for a lower-key event, Barbula is the perfect choice for barbeques and everyday meals.
If you are a wine importer and would like to attend the upcoming Workshop Buyer meets Italian Cellar (4-6 November 2013) as an invited buyer and meet Le Senate there are still places available!
Sofia Sagripanti