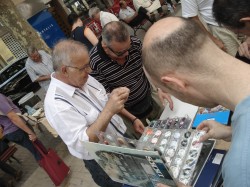 When opening a bottle of sparkling wine – whether it be champagne, cava, prosecco, or another – have you noticed the small tin disc that rests on top of the cork? Sometimes it is covered in a picture or sometimes the logo of the winery. I, like I'm sure many people, have noticed it, but never gave it much thought. I just popped off the top and sent it to the recycling bin along with the rest. No big deal, right? 
Wrong! Well at least in Penedes, Spain – cava country. I recently learned that in this area, people collect these cava tops known as Chapas. Wineries play to these collectors by releasing different editions of chapas with all sorts of messages and pictures. I experienced the chapa craze first hand during a Wine Pleasures blogging visit to a Sunday morning trade.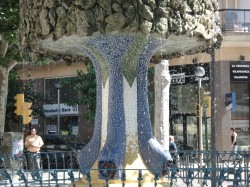 We walked up to a seemingly quiet street with a classically Spanish tiled mosaic fountain welcoming us. Looking beyond the fountain, we noticed this pedestrian street was quiet except for a large group of people huddled around tables in the middle. That's where the fun was happening. Walking up to the group, we soon realized that each person had a binder full of chapas resting in plastic sleeves and categorized according to value and importance. Much like baseball card collecting in the U.S., chapa collecting in Spain is taken seriously. Collectors young and old went through binder after binder and consulted reference books as to the authenticity of each piece.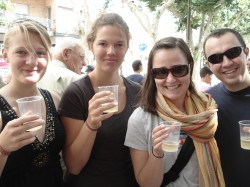 While the majority of people were strictly trading, there were vendors as well displaying some of the rarest finds. Prices ranged anywhere from €1 to €20. some were sold still on the cork and still in the bottle. One vendor, José Manuel Castro showed us his prized collection of chapas – ones made of silver that were 120 years old! Those were not for sale. As usual, the Spanish were welcoming and excited to talk about one of their passions. We enjoyed a glass of cave with that particular vendor, who paired it nicely with potato chips- the salty sweet combo was perfect!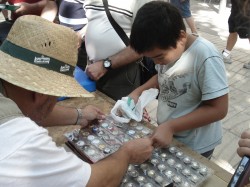 Heading out, we looked at the new chapas traded by Jethro, son of Wine Pleasures Owner, Anthony. His favorites for the day were ones with animals, tractors, and buildings. Who knew cava tops were such a hot commodity? 
You  can view some more photos of the activity on our Facebook Fan Page. Below is a video to help you get a feel for this unique Catalan "pasatiempo"
Hailey Morton, Wine Travel writer for Wine Pleasures