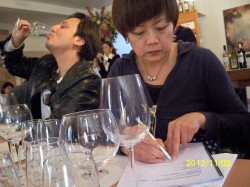 Making a name for one's self within the Ontario, Canada wine industry is not a simple task. Being a highly competitive and rapidly growing industry, there are several important factors that can produce success. However, there is no specific formula for a productive outcome.
Lamprecht Interational managing director, Helen Lamprecht, took some time out of her busy schedule to discuss the company's journey to the top and how the small workshops that they have attended in the past have generated much of that success.
Helen, who will also be joining us at the Wine Pleasure's Buyer Meets Italian Cellar workshop this November, fills us in on Lamprecht International's goals in attending the workshop and their Italian wine wish list. 
Can you give us some background information on how Lamprecht International got its start in 1993?
Prior to 1993, both Fred Lamprecht, the president of Lamprecht International and I had been involved in wine teaching/education and marketing in Ontario and had traveled to world wine regions extensively. We became particularly fond of South African wines. When the trade sanctions against South Africa were lift in 1993, we immediately started to import South African wines to Ontario. We were the first company to bring in South African wines to the trade market in Ontario at that time. Until today, we are still very proud of our sales of South African portfolio which is selling successfully especially in the hospitality industry. We of course expanded our portfolio to be truly international since then with focus in Italian wines for the last 5 years.
I notice that you attended a Wine Pleasure's workshop last year. We can't wait to have you back! From your experience, what seem to be the benefits of Wine Pleasure's workshop methodology as opposed to large fair trade?
I believe that a workshop like this is more effective and efficient to meet suppliers. One-on-one meetings allow an in-depth discussion and tasting, so we learn and know more about the products and the people which can leave a long lasting impression and memory. This also allows us to select the suitable and right products for our market on the spot.
To me, large trade fairs are a little bit superficial and very much rushed. Tasting so many wines without sufficient time to write down notes, often very tiring to walk all day, difficult to carry all the papers, cannot sit down to write notes, surely you forget most what you tasted afterwards plus the crowd, noise….  All these drawbacks for large shows make me reluctant to attend.
I see you already carry a few Italian wines. What Italian wine additions are you looking to make at the workshop in terms of price range, style, and region?
Our Italian portfolio is still insufficient for our sales target. We want to expand to represent one or two suppliers from North West, a couple of from Central & Tuscany. Ideally, we hope to represent at least one supplier from each major region. We certainly focus on good price/quality ratios, mainly medium to lower price range, preferably with some good press ratings. We are looking for exceptional valued white and Ripasso to add to our consignment program for the trade market. Higher priced wines can be of interest if with great high ratings, for which I intend to pursue our government tenders for the specific calls.
How have you seen the wine industry change and grow over the years that Lamprecht International has been in operation? What do you think it takes to adapt to those changes?
Oh, how greatly it has changed! Certainly it has become so much more competitive. The market is becoming more price conscious. People are really looking for wines with good price/quality ratios. This trend is also reflected through the LCBO's tenders that always ask for wines to be submitted with great price quality ratios.  Due to the economic meltdown since 2008, we are forced to focus on really good valued wines to meet the market demand.
Which style of Italian wine do you believe is the most popular at this time in Ontario?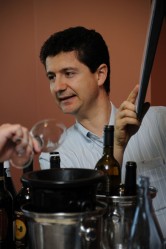 Italy is proud of its versatile wine styles. Ontario offers a dynamic market with so many different styles of cuisine to match up with these wine styles. It is very difficult to pinpoint one style of wine. If I have to choose, I believe that a dry, medium to full bodied, lightly oaked red is favorable and Pinot Grigio is still the most popular white.
Italian wine producers would be smart to sign up for the upcoming Buyer Meets Italian Cellar workshop and set up a meeting with Helen Lamprecht to discuss a distribution future with Lamprecht International!