When many people think of Croatia they do not think of wine and culinary Tourism. Think again! The Croation National Tourist Board breaks Croatian down into digestible chunks and include Kvarner, Dalmazia, Zagrabria Slavonia and Istria.
Istria (or ISTRA to Croats) is where Continental Croatia meets the Adriatic Sea. The coast or "Blue Istra" gets flooded with "beach and sun" tourists. Head inland to "Green Istra" and you'll notice that crowds dissipate, hotels complexes give way to charming rural accommodations set within unspoiled countryside of medieval hilltop towns, pine forests, fertile valleys and vineyard- dotted hills.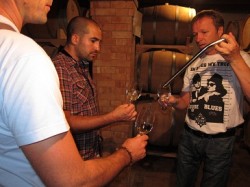 Life here is defined by the demands of the harvesting of grape varieties such as the Malvazija Istriana (mal-va-zia), hunting for white truffles in the Motuvun Forest, picking wild asparagus in Spring time, nurturing oysters in the Lim channel and cultivating olive groves. Farmhouses open their doors to accommodate wine and food lovers looking for an authentic experience, rustic taverns in isolated enclaves serve up slow-food delights, and wine – makers provide visits and tasting in their wine cellars.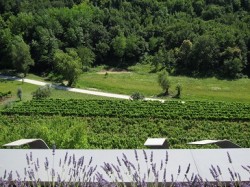 So which wineries should you visit? Well to date we can only name you the four we have visited ourselves. Being boutique family run wineries you are guaranteed a highly personalized visit and tasting which will be family member and/or winemaker led.
Matošević Winery produces a stunning line up of wines white and red that are centered around  the  Malvasia grape variety. Another Mavasia producer (Muscat and Teran too)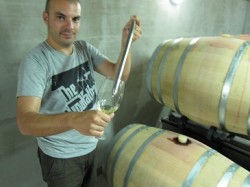 to visit would be Kozlovic Vina who was during our visit preparing a tasting room with spectacular valley and castle view.  For a modern winery visit with an eclectic wine tasting room try Trapan. As well as the Malvasias make sure you try the Rosé – a blend of syrah, merlot, teran and cabernet. The Kabola winery says that if you want to experience something really special in Istria, you have to taste the wines of Momjan area. Well make sure you try the wine made from the unique Momjan Muscat. Also take a look at the small wine museum housed in the
winery.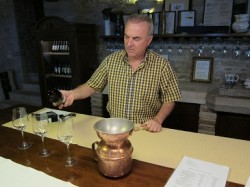 If you want to try many Istrian wines and meet the winemakers all in one place then you might be best advised to plan your grape escape in the month of May and attend the annual wine and food tasting event organized by the Association of Winegrowers and winemakers of Istra – Vinistra.
Contact the Istria Tourist Board in Poreč for ideas and info on what to see and do in this unique, magnetic and wholesome wine and culinary destination.
For useful blog posts on wine and food in Istria keep up with Istria Aficionado for honest reviews on wine, food and events in Istria. A  Taste of Croatia too is well worth book marking