The Istenič brand was born in Stara Vas, a small settlement in eastern Slovenia near the Croatian border, and over the years has garnered attention for the wine region Stara Vas na Bizeljsko, not only from wine lovers in Slovenia but around the world as well.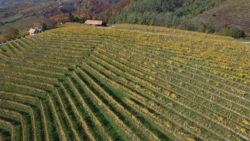 In the year 1968 the Istenič family bought 0.1 hectares of vineyard, and created their very first sparkling wine in the traditional method.  The sparkling wine was named "Barbara", for their daughter, who was born in that same year.  This was the first privately produced sparkling wine in all of Slovenia.  Janez Istenič, the head of the family, began producing wines as the very first private producer of sparkling wines in Slovenia.  This was a groundbreaking event for wine making in Slovenia, as before this time all wine producers were large and socially owned.
In the 1990s, the Istenič family began to expand their winemaking endeavors.  They built a winery in beautiful Piršenbreg in 1995, which was nestled among 3 hectares of young vineyard.  In these vineyards Chardonnay, Pinot Noir, Pinot Blanc and Pinot Gris are planted.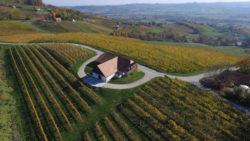 Then in late 2006 the family bought 3 more hectares of vineyard in Drenovec, an area considered to be the best site for cultivating grape vines in Bizeljsko.  In this vineyard the white varieties Laški Rizling (Also known as Welschriesling) and Šipon (Also known as Furmint, a grape that originates in Hungary) thrive in wonderful conditions for grape growing.  This property in Drenovec there was an old winery in the very center of the vineyards, and in the year that followed the Istenič family completely renovated this winery.
The landscape in Stara Vas na Bizeljsko is tranquil and idyllic, rolling hills on all sides with vineyards soaking up the sun for many hours each day.  The terroir here is special, containing high levels of silicates that are rarely found elsewhere, and are an important source of nutrients for the vines.  The hills on which the vineyards lie sit at an altitude of between 170 and 350 metres above sea level.  The climate here gives excellent potential to the cultivation of grapes for white wines.  The days are sunny, especially during ripening season, and the nights are cool.  This allows the sugars grapes to reach ideal levels of acidity and sugars.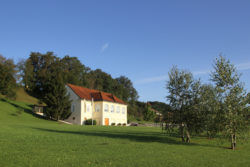 Istenič produces 200,000 bottles per year of sparkling wine, and is one of the leading houses in Slovenia.  Istenič is a multi award winning winery that combines traditional winemaking with modern cellaring technology and a powerful commitment to producing top quality sparkling wines.

For wine tourists traveling through Slovenia, the Villa Istenič is a breathtakingly beautiful manor, painted with pristine white and lemon yellow, with foundations laid in 1740.  Rooms and suites may be rented for wine tourism.  It is situated the entrance to the Bizeljsko wine region, on top of a hill with wineries on all sides.  Guests will of course receive a bottle of chilled sparkling wine, and may relax and enjoy all that this exceptional wine region of Slovenia has to offer.
Istenič have the following sparkling wines amongst the 50 Great Sparkling Wines of the World 2016>>
Nº 1 Cuvée Speciale (Silver medal 91 pts)
Prestige Brut (Silver medal 90 pts)
Gourmet Rosé 2006 Magnum (Silver medal 90 pts)