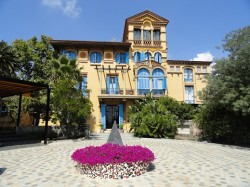 The second we drove up to the five-star hotel, Mas Passamaner in the DO Tarragona region, I knew I was a someplace special.  It wasn't grandiose, fancy, or impersonal like I expected a five-star hotel to be, rather it was a unique, quaint, personal place where every last detail had been beautifully attended to.
Designed and renovated by two great Spanish architects, their creativity shines through the spiral columns, glazed blue tiles and shutters, wrought iron railings, stonework and mosaics that adorn the façade of the building.  The hotel honors their artistic history, and has named and decorated each room after a great Spanish architect.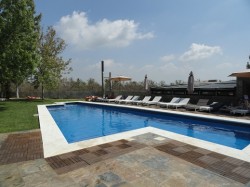 When we finally peeled our eyes off the outside of the hotel and walked into the lobby, we were immediately greeted by a multi-lingual host and shown around the property. She walked us through the pool area, which featured a perfectly temperate, fresh water pool covered in blue mosaic tiles, and posh lounge chairs and tables. We passed the helicopter pad, and headed into the two private villas on property. Each villa is two levels and drips with modernist luxury. Aside from designer furniture, fixtures and artwork, each villa comes complete with its own private infinity pool, lounge area and outdoor shower.
Obviously, not everyone can fly a helicopter to their own private villa and infinity pool, so Mas Passamaner offers 26 double rooms and five junior suites as well. Each of these rooms features a whirlpool tub, modernist decor and plenty of architectural artwork throughout; some are even poolside with open patios.
The intimate spa is located in the heart of the property, between the hotel, villas and pool and offers all the services a relaxing vacationer could ask for. The spa is the perfect combination of relaxation and fun and boasts brightly colored, yet calm rooms with the same modernist feel as the rest of the hotel.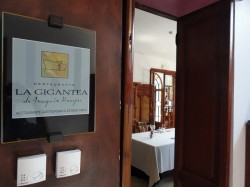 After seeing the rooms, pool and spa, we explored the restaurants. To me, this was one of the most important parts and a wonderful dining experience is key to making a good vacation great! Here, the hotel did not disappoint. They offer two different dining options, The Casual Restaurant, a beautiful but relaxed restaurant whose name is self-explanatory, and La Gigantea, their exquisite single table restaurant.
At La Gigantea, there really is only one table and it seats up to eight guests. An eight course menu and wine selection is thoughtfully personalized for every party and includes only the best ingredients and wines available. The dinner culminates with a personalized and dated menu signed by their Michelin-starred chef, Joachim Koerper.  I have to admit, as we wandered out of the restaurant, my mouth was watering and I was mentally running through my 'friends list' to see who I could come back with for dinner.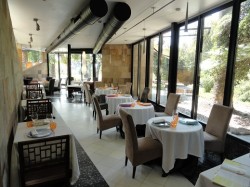 From the dining area, we walked to the hotel's two event halls. One is small and intimate, the other, large and open with a DJ corner, pop-up stage and access to the private bar, grassy knoll and outdoor reception area. They also offer in-house event planning resources and can cater to all of their guests' needs whether it's a lunch meeting or a full-on wedding ceremony and reception.
By the time we finished our tour I was speechless, but what kept running through my mind was the quote 'excellence is in the details'. The hotel Mas Passamaner fully embodies this philosophy and makes it clear to anyone who visits why it's worthy of a five-star rating.
Brittany Asseff, wine and travel blogging for Wine Pleasures