Internet users in China (that's some 338 million users and the majority living in Beijing, Shanghai and Gangdong) are, in the most  unable to access social networks such as Facebook, Twitter, Flickr, YouTube, Blogger, Hotmail, WordPress and so on. For savvy wineries already exploiting social media tools this may seem to be a hurdle too mighty to overcome. Well it is and it isn't.

The Chinese have their own social networks but of course they are almost all written in Chinese. There are around 100 social networks where you can post blogs, photos and videos in the same way as you can outside China. You can also chit – chat about your wines but you must do it in Chinese! Chinese Social Networks can be grouped as follows:
Themed: Networks where people talk about eating and drinking, travel and so on. So talking about wine can happen here. Fobshanghai, Zhongyao, Xilu, Allfang…….
Specific. Networks where the topic of conversation is wine. Winecn, Winechina, Jinqu, Redwine……..
General. Social networks where wine could be a topic to chat about. . Renren, Voc, Tianya, Ipart…. Sort of your Facebook equivalent.

Wine in China is synonymous with social status. Wine is consumed above all in Hotels and Restaurants, private parties (as a present to the host), and as a gift to from corporates to their  clients. Medium and high end wines are most sought after. Word of mouth is very important. Chinese internet users triple those in the USA. 92% of internet users use social media networks such as QQ, RENREN, chats, blogs, microblogs and so on.
Conversations and opinions on the Chinese social networks determine how and where they buy products (62% ask for opinion before purchasing) A study by iResearch shows that more than 80% of internet users use social media networks to find information on the products they are planning to buy.
So you want to export to china and pay very little? Nice choice and it can be done!

Exploiting the social networks is the key. You need to start right away and get your brand known in the social media networks and over time you will start to connect with consumers, retailers, distributors and importers.
So forget those costly trade fairs, visits, presentations and lengthy trips and start right from home. Through patience and consistent and regular blog postings you will get speedier results and it won't cost you very much money! You'll soon build up a list of useful contacts and then you can start to think about virtual tastings, virtual games in collaboration with wine clubs, retailers and of course importers.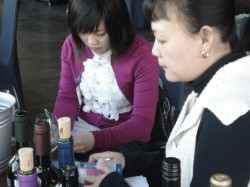 Then we'll get to the stage when sooner or later people will start to want to buy your wines. This is the time to plan your visit to China. Pre-scheduled one to one appointments over several days with wine importers who you have met over the social networks and/or have recommended you and your brand of wine by word of mouth.
So how do you get known in the Chinese Social Networks?
Wine Pleasures, offers a consulting service with respect to blogs and social media. We can create your social media profiles, translate your blog posts, press release, tasting notes and son on and publish them in Chinese on the social networks. We'll take a look at your web site and your social media presence and if we feel you could benefit from our Know-How we will help you get you started and/or increase wine exports to China. For further information just complete the Further Information Request Form below and we'll get back to you.
Article by Cherry Chen.
Oops! We could not locate your form.