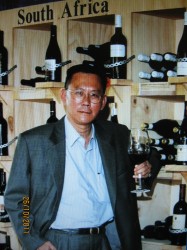 The wine scene in Singapore has not always been as vibrant as it is today. The country may have British roots, but wine drinking was traditionally the province of the well-heeled and the upper-class, but not ingrained in the daily life of the majority of the population. Twenty years ago, it was only the hotels that boasted decent wine lists – and those were predominantly French wines. The last ten years have proven to be revolutionary, and part of the change is a by-product of the surge in Australian wines. The fruit-forward styles, without the puckering tannins that people usually associate with French wines, coupled with consumer friendly prices, mean that the middle-class can now easily afford a bottle of wine.
This wine drinking culture is further buoyed by the rise of Generation X, who studied overseas and were eager to bring their wine drinking habits back home. From an initially paltry number, there are now more than 150 active wine importers in Singapore alone. One such wine importer, Our Wine Arcade will be travelling to Spain to attend the annual
Buyer meets Iberian Cellar Workshop
in search of Portuguese and Spanish wines.
We were fortunate to speak with Jimmy Ler, owner of Our Wine Arcade about his views on Portuguese and Spanish wines and the BMIC event.  Below are his answers to our questions.
1. Can you please tell us a little bit about Our Wine Arcade, when was it founded and what was the reason behind getting into the wine trade?
We started some 10 years ago under Wine Arcade, and now has re-named it Our Wine Arcade to be more personal with the customers. This name is also to reflect the evolution of the market demand. It started with a group of friends indulging in drinking wines. It soon turned into a business as they perceived the demand for wines is gaining momentum.
2. You currently import a nice selection of Spanish wines, what types/styles are most popular among your clientele in Singapore?
My clientele prefers heavy palate. Spanish wines give them this basic requirement.
3. What will you be looking out for at this year's workshop?
I am looking for good quality wines that have a heavy palate and a depth of color. I am actually looking into expanding my portfolio of wines as I am catering to hotels' need. The aim is to explore the possibility of expanding our wine portfolio as we expect the demand for 2012 to be excellent, surpassing 2011 which we were satisfied with its growth. As we distribute our wines to mainly hotels, high-end restuarants, Government Ministries, and also the President of Singapore, we are sourcing wines that are not easily available in the supermarkets
4. What wine events have you attended in the past and how would you compare the experience of a smaller workshop to a large-scale wine trade fair?What are the strengths and weaknesses of both from your perspective as a wine buyer?
I have attended VINEXPO, Vinitaly, WWN in Cannes. I believe that a smaller workshop will be able to achieve more constructive results as the atmosphere is more intimate; vis-à-vis, to know and study each other better.

Buyers are travelling from all over the world, with tremendous interest from the USA and Canada, to meet small to medium sized wine producers who do not usually take part in the large wine & food trade fairs.  Buyers are looking for white, red and rose wines as well as cava, sparkling and fortified wines.
See the Workshop venue – Hotel Estela