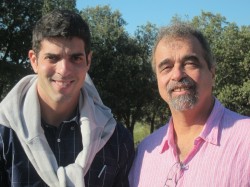 We spoke with Adriano & Sergio Ferraz the Commercial Directors of Grenache Importadora de Vinhos in Brazil about the 'Buyer Meets Spanish Cellar' workshop in November to find out more about Grenache and what he will be on the look out for at the workshop. 
Can you please tell us about when Grenache Importadora was founded and what the impetus behind starting the business was?
Founded in mid-2007 in Rio de Janeiro, Grenache is a wine importer focused on the trade market for haute cuisine. Its goal is to focus on personalized service; creating solutions and shaping the needs of its customers, working as an advertising agency, working as an enogastronomy consultant, developing wine lists and conducting training. Our mission is to increase the sale of wine within our chosen markets. 
We have a highly qualified team comprising of; international sommeliers, advertising consultants, marketing analysts and sales consultants for both the international selection of wines and as technical support to our customers. 

Our products are selected through an extensive selection process.  Through visits to more than 120 wineries, we aim to search for the hidden gems in each country. The results of this effort is a portfolio full of award-winning wines in the world's best competitions, such as the World Competition in Brussels in Belgium, International Wine Challenge in England, Catad'or in Chile, in Argentina Vinandino, Mundus Vini in Germany, France and Korea Vinalies Wine Challenge in South Korea. 
Being a wine importer in Rio de Janeiro, what can you tell us about the Spanish wine consumption and preferences in your area? Are still or sparkling wines more popular, why do you think this is?
In Brazil, the Spanish wine category is the largest and best performing this year, with a 44.86% increase over the same period of 2010. This is easily due to the Spanish cellars involved and the specific campaigns held to identify, explore and encourage the consumption of Spanish wines. Consumers recognize Spanish wines as a product of high quality, are cost-effective, show diversity, and are clearly a great match to modern Spanish gastronomy. We believe that the consumption of still wine is the majority in the Brazilian market. 
What type and styles of wines will you be on the lookout for at this year's Wine Pleasures workshop?
We are in search of both still and sparkling Spanish wines. 
4. What will you be uncorking this weekend?
Still not sure, but I think it will be a Carménère from Cachapoal, Chile. 
Grenache Importadora just one of many wine importers at the 'Buyer Meets Spanish Cellar' workshop 2011.