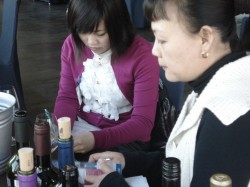 Lamprecht International is a mid-sized agency, based in the province of Ontario. They concentrate on supplying fine wines to their government alcohol monopoly (LCBO) in Canada. There is a great interest within the department to supply a diverse range of Italian wines, both red and white. That being said, they are constantly attuned with different varieties of wines produced in Italy and are looking for ones that would be popular in the Canadian market.
Lamprecht International has access to all parts of the provincial wine market, at the restaurant, hotel and private consumer levels. Currently, they represent producers from Austria, France, South Africa, Italy, Australia, Spain, Germany and Argentina.
Helen Lamprecht, managing director of Lamprecht International, talked with us more about what Italian wines she is specifically looking for at the upcoming Wine Pleasures Buyer Meets Italian Cellar Workshop and the history behind the company.
From your website, I read that you have been in the business for over 18 years. How did you first become involved in the wine industry?
To answer this question, I have to first introduce Fred Lamprecht, the president of Lamprecht International, who came to Toronto, Canada over 40 years ago from Vienna, Austria. He is a certified sommelier, a graduate of Britain's Independent Wine Education Guild (Certificate, Higher Certificate and Diploma Levels), winner of numerous blind tasting competitions including the Sommelier's Global Blind Testing Competition, wine judge, etc. and he was also teaching Wine Appreciation courses. I was in his Wine Appreciation course, and we then formed a partnership to import wines since 1993. I have been enjoying working in the wine industry since then.
What do you feel are the benefits of the Wine Pleasures workshop methodology opposed to a large trade fair?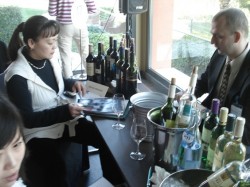 A workshop like this is more effective and efficient to meet suppliers. One-on-one meetings allow an in-depth discussion and tasting, so we learn more about the products and the people which can leave a long lasting impression and memory.
What are you hoping to gain from this workshop?
I hope to find a few suppliers from the region to exclusively represent in Ontario, Canada and market their products in our market.
What kind of wine stars are you hoping to find at the workshop in terms of color, price, and region?
We don't have strong representations in North, Central Italy and I am looking forward to meeting suppliers from these regions. I am looking for any styles, both red and white and medium to lower price range.
I noticed on your website that you supply fine wines to your government alcohol monopoly. What are the favored wines in that department?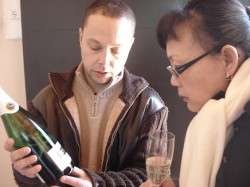 Our government monopoly LCBO sends out tenders for Italian wines several times a year. The range of wines required is very large, from North, Central and South, both red and white and mainly native grapes, or specific styles/grape varietals to the region.
Italian wine producers, especially those from North, Central Italy should consider taking part in the upcoming Wine Pleasures Workshop Buyer meets Italian Cellar on November 5-7. And, don´t forget to set up a meeting with Helen to discuss exclusive representation in Ontario, Canada.