Low seated bush vines separated by fields of golden wheat follow the rolling hills within the basin of the small county of Conca de Barbara in the town of Pira, 115 km northwest of Barcelona.  As you approach Celler Carles Andreu, you feel the serenity of the crater.  Isolated from the rest of Spain, with its own unique weather conditions and soil, Conca de Barbara is the perfect setting for the Trepat grape to thrive. The oldest vineyards, planted by the grandfather of the family, are over 80 years old; the second oldest Trepat vines in Conca de Barbara.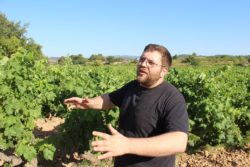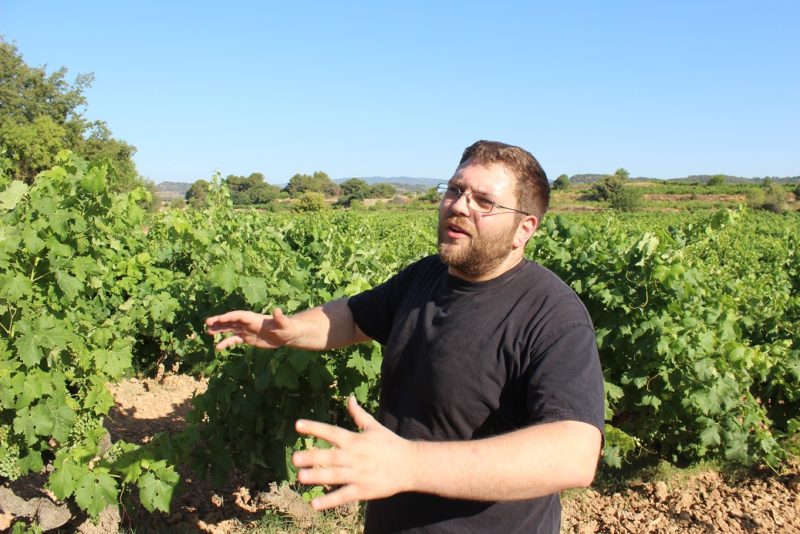 Today, the family owns about ninety hectares of vineyards in the Conca de Barberà county, where they mainly grow the traditional grape varieties in this region (Macabeo, Parellada and Trepat).  The largest vineyard is only 6 hectares, allowing for more diversity in the vineyards.
The vineyards extend across the municipalities of Pira, Forès, Sarral, Solivella, Barberà de la Conca and Montblanc. After decades of growing grapes, in 1991, Carles Andreu established the bodega that still bears his name today. A small bodega housed in the old manor house of Cal Celdonitakes advantage of the space where wine used to be fermented many years ago, respecting the facings and architectural shapes of the house, which was built in 1796.
The Andreu family has long respected tradition, and only produces wine with 1/3 of their grapes.  The remaining 2/3 are sent to the local co-opp in order to better support the region. From the 1920's to around 1985 there was no private production in this area.  Then, in 1985, Bernat's father began making Cava.  In his first year, he produced 4,000 bottles.  Now, the Andreu family is responsible for the production of about 140,000 bottle.  All 250,000 kilos of Andreu family wine grapes are hand-picked.  The remaining 750,000 kilos are machine harvested and sent to the local co-opp.  And, during harvest you will be sure to find Bernat's father (55 years young) still active in the vineyard.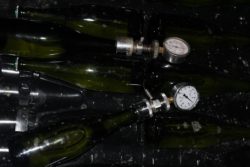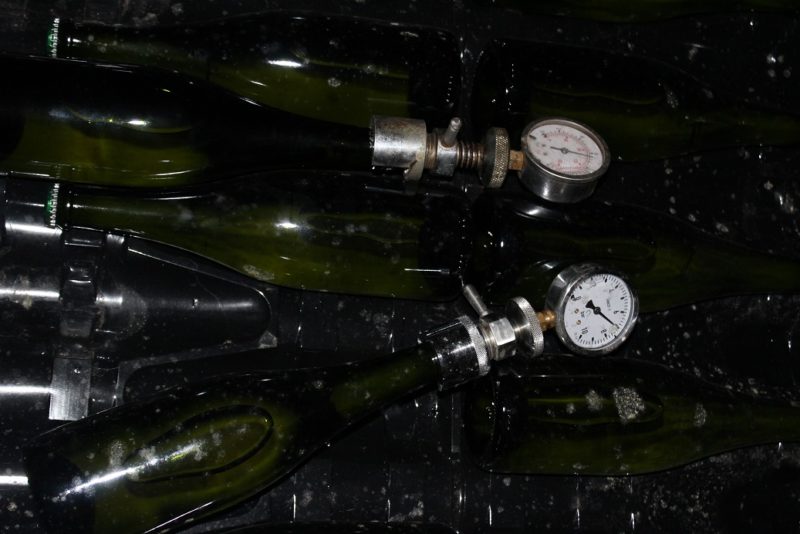 The star grape, Trepat, is local to this region.  With a total of 1,000 hectares of in Conca de Barbara, Trepat accounts for about 20% of the total wine production in Conca de Barbara; not to mention, 90% of the world's Trepat is grown here. The weather in Conca de Barbara is very supportive to the needs to Trepat.  They are not coastal, need lots of sun during the day and cool nights.  At 400 meters above sea level, this crater seems to be the nursery the Trepat grape needs in order to thrive. Although the Trepat grape has a dark skin, the sugar concentration is more similar to a white grape, and even during cold and dry years, they are still able to produce.  The sugar content in this late ripening grape is ideal for Cava (as well as a beautiful red), with good acidity and low tannin.
Although both the building and family tradition date back centuries, the Andreu family has embraced technology in order to increase the standard of their final product.  In 2002, construction began on a tunnel and two cellars.  Two years later, the project was completed, and if you're lucky enough to get a tour, you will see the tail end of the Cava process in the dark, cool caves under the front vineyard.  This is where the family allows the Cava to take its time and age gracefully.  You cannot rush a good thing, and the family embraces this slogan.  Many of the Cavas are aged well past the required number of months for the Reserva and Gran Reserva categories, allowing consumers to enjoy a superior product. Indeed Carles Andreu has 3 Cavas amongst the 50 Great Cavas 2017 which are as follows:
| | | |
| --- | --- | --- |
| Carles Andreu Reserva Barrica | 2012 | A very distinctive style with notes of vanilla and spice on the nose. The palate has fine bubbles & a very attractive forward fruit style with notes of preserved lemons & a long salty finish. |
| Cava Rosat Brut Carles Andreu | 2013 | A toasty style with more lees ageing evident on the nose. Tart, crisp acidity, ripe strawberry fruit, long & salty. |
| Cava Brut Nature Carles Andreu | 2013 | More notes of time spent  on lees – toasted bread, brioche, honey and roasted nuts. Complex, crisp & fresh but with a real depth of ripe peach fruit character & a long finish. Stands out from the crowd. |
Source 50 Great Cavas 2017>>