Upon arrival at Ferré i Catasús, it is difficult to tell whether the building is a winery or a modern art gallery. Surrounded by bright flowers, gleaming fountains, and rows of blooming grapevines, the Ferré i Catasús winery sits in the heart of the Penedès region of Spain, about an hour outside of Barcelona.
The business was handed down from Josep Maria Ferré i Catasús to his son Lluís about 10 years ago, and has since experienced rapid change. In the last decade, Lluís remodeled Masia Gustems, the company's headquarters  in La Granada, installing state-of-the-art equipment and re-training the cellar team. The fine wine and cava producer is currently expanding its reach from Europe to the massive consumer markets in the United States and Asia.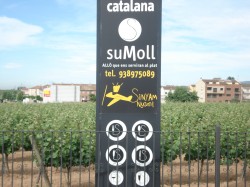 Ferré i Catasús is backed by the larger family business Grup Ferré, a firm that is deeply involved in the restaurant and wine sectors across Northern Spain. The company's most notable property is 4 GATS, the Barcelona restaurant that artists like Picasso and Gaudi frequently enjoyed their dinners in.
While the wines at Ferré i Catasús are delicious, possessing a young and fragrant character, I think its main attraction lies in its unique label designs. Each bottle is branded with a hip, minimalist graphic that is meant to communicate the essence of the wine. According to the winemaker, their designs play with a concept of "reflection, symmetry, and a kind of forbidden sweetness."
The artistic creativity continues on the top floor of the winery, where coca tostada con tomate and dumb duck confit with apple and walnut liqueur are served among the colorful murals and paintings that cover the walls. Guests can choose to eat on the balcony or in one of several dining rooms at SuMoll, the Catalan-inspired sister restaurant to 4Gatts.
The novel atmosphere, delicious wines, and welcoming staff make Ferré i Catasús a necessary stop on any wine traveler's Penedès adventure.
Kerrie Lopez, New York Travel Writer