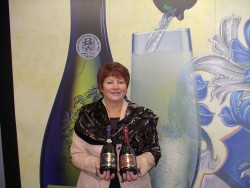 Aera Vinum is Latin for "Goddess of Wine" produces exclusive wine that is focused on providing the utmost quality to the most discerning wine connoisseurs.  Mostly marketed towards the hospitality and retail channels, the young winery won numerous accolades and had the privilege of being the official beverage for the Cultural Capital Graz 03.
Started in 2002 it is situated in Ehrenhausen, in the Southern Styrian Wine Route of Austria.  The winery boasts some of the most modern and well-equipped facilities in the Austrian winery region.  The large processing and bottling plant originally built by the Seagram distilling company between 1985-1987 allow for a daily output of 100 000 bottles, and a storage capacity of 2.4 million litres in tanks, yet given these impressive numbers the company has chosen to stay artisanal and focus on quality rather than quantity.  Like most German and Austrian Sekt producers, Aera Vinum uses the Charmat method for second fermentation in the tank for three years for smooth, rich, and well-balanced nuances in flavour and finish.
The company strives to achieve the perfect merger between craftsmanship and quality control to provide consistency and complexity.  This is achieved in addition to a having state-of-the-art facilities at their disposal, with the careful selection and blending of the right wines to create balanced cuvee's.  For this purpose, Aera Vinum sources out for grapes mostly composed of Riesling, Rhine Riesling, Chardonnay, and Veltliner.  Currently the winery offers three taste profiles -"Baron" (extra dry), "Baroness" (dry), and "Royal" (brut)- something to every discerning connoisseur.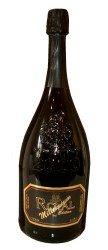 The packaging matches the grandeur of the liquid inside, thus making Aera Vinum wines not only a pleasure for taste buds but also for the eyes.  The bottles are specially created out of dark coloured glass with a raised embellished crest and embossed gold leaf and coloured labels on each bottle.  Enjoy feasting the eyes on a stunning bottle while savouring the bubbles and lingering smooth taste of this royal sparkling wine.
Aera Vinum has the following Sparkling Wine amongst the 50 Great Sparkling Wines of the World 2016>>
Royal Millenium Edition (Gold medal with 98 points)
50 Great Sparkling Wines of the World 2016 – Get your copy here: