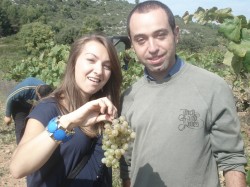 Barbara Siemianiuk, Export Manager and Xavier Vendrell, winery owner are the younger ingredient of Montau de Sadurni, a rustic winery stood in the setting of 15th Century Cavas, Xavier's Grandfather having made his first bottle in the 1940s. Combining old with new, they tell us about the new party drink, and how Cava is perfect for the fashion industry.  
As one of the attendees at the Wine Pleasures Workshop, Buyer meets Catalonian Cellar in Nov 2010, we had the chance to chat to both Barbara and Xavier: 
1) How is the harvest going so far? Does 2010 look set to be a good vintage?  (Xavier) It's been a strange harvest this year, because it's been very late – it's been more than 10 days later than usual. But generally it's gone very well, but slowly. We have had a little less production than last year, but everything is going fine. We have good wines for 2010! (Barbara) Yes especially because every country had this problem due to climate change, in California, Portugal, France they are all in the same position that the harvest has started between almost two weeks later. But as always we have good expectations.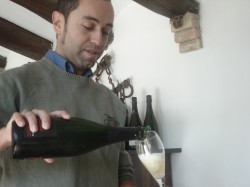 2) What types of wine do you make and how would you describe them? What makes them special? (B) We make young wine and cava. What makes them special is that we make them contemporary wines, international wines, which means that we have tried to adopt to the demand of the market and don't overdo the 'wood', but keep it fruity, sort of simple – not too extravagant, but still with good character. They are fresh wines, cheerful wines that are good for socialising. 
3) What can you tell us about your customers who drink your wine? What other countries are you interested in exporting to and why? (B) We have defined a certain strategy for our target customers. He is a frequent drinker but not maybe an expert. Someone looking for something simple but original that will associate glamour with the wine. We actually sponsor fashion events – more and more people from the industry are asking for bottles and we're sponsoring many up and coming events. That's the sort of consumer we look for as our cava is very light, it's a good party drink.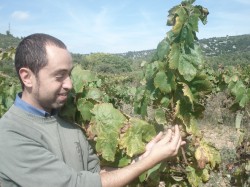 In terms of countries, we're interested in Germany, Belgium and Holland. We're still interested in the UK, and in Poland – we weren't so focused in Poland but we saw there is demand so we're covering it! We started export only one and a half years ago, so we're interested in finding more markets. 
4) How would you compare the workshop methodology at Wine Pleasures to a large-scale wine trade fair? How do you compare the two and what are the strengths and weaknesses of both? Of course it's much more personal and probably more affective as you know which importers will be attending. They have the chance to study your profile, whereas with a big fair you just throw yourself into the crowd and don't know what could happen. People are more committed in a smaller event. It is a really good platform. I like both formats, but the workshop is a good opportunity. The importers can go to the wineries, so they get a better idea of you, whereas a big fair doesn't offer that.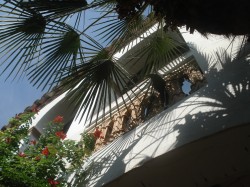 5) What effect does wine tourism have on your brand and marketing? We do wine tourism visits, especially for us tourists as we're working with an agency who brings mostly Americans, unfortunately we don't have an importer there, but I'm very interested in finding one. It spreads the word and the effect is that through facebook or twitter we can keep in contact with people who have been here. Slowly it develops, I see it as very positive.
So if  you are a wine importer looking for fashionable light crisp cava then look no further. Come and meet Barbara and Xavier of the Penedès based Montau de Sadurni winery at the upcoming Workshop Buyer meets Catalonian Cellar.