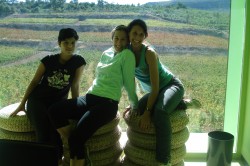 Mas Rodo Winery has been in the market since 2009, creating innovative wines as well as an environment that balances the preservation of the surrounding ecosystem with the art of making fine wines. The estate covers 150 hectares in Sant Joan Mediona, the building integrated with an eighteenth century country house.  As one of the attendants of the Wine Pleasures Workshop: Buyer meets Catalonian Cellar, which will be held in Nov 2010, Oriol junior gave us an insight into the exportation of their delicious wines: 
1) How is the harvest going so far in Catalunya? Does 2010 look set to be a good vintage? We've almost finished and are harvesting the final variety we produce, Cabernet Sauvignon. It has been a hard year because of the rain, we don't look for big production, so the rain has made the size of the grapes decrease. Ultimately it's not been the best one for us in terms of yield. We've gone for quality not quantity. Quality is our priority.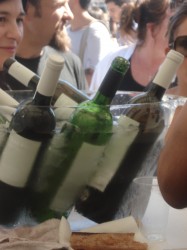 2) What types of wine do you make and how would you describe them? What makes them special? Right now we are making single variety wines, so Montonega from the family of Parellada grapes, we have a Riesling, a German variety but we have had success with it and have even been exporting it to Germany! Then also another local variety, a white from macabeo grapes. We have a merlot. We have a new wine, but it's resting so we won't be able to put it on the market until next year.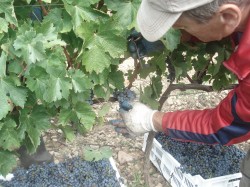 3) What can you tell us about your customers who drink your wine? What other countries are you interested in exporting to and why? I hope our customers are very different. At first it was to design some wines that are very easy to drink, but original. Sometimes you find that the public surprise you. Our target was younger, maybe ages 30-40, with some cultural differences – but no riff raff! But, it turns out that the people who like our products come from diverse backgrounds and ages. Mostly we export to the U.S, we've rented the services of an importer there – it's the hardest step and now we're travelling over there to attend wine fairs to open up the market. Also we would like to try northern Europe like Poland, Belgium and Sweden.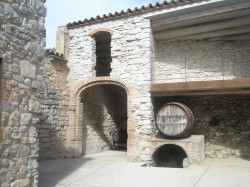 4) How would you compare the workshop methodology to a large-scale wine trade fair? How do you compare the two and what are the strengths and weaknesses of both? I think a workshop is a really good idea as you can meet and share time with the potential customers. It's generally easier as we're all concentrated around here. A fair is much bigger, everyone has less time, you don't know if you're going to meet someone interesting.
5) What effect does wine tourism have on your brand and marketing? This year the government has involved it a bit more, to organise all the wineries to increase wine tourism. Right now though we are in harvest, so we have no time to have people visit! It's usually a small visit, but we can include meals.
Workshop Buyer meets Catalonian Cellar is for international wine importers to meet Catalonian wine producers.