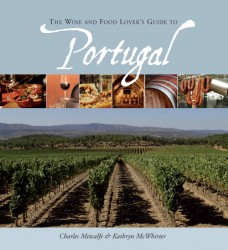 'The Wine & Food Lover's Guide to Portugal' is a comprehensive guidebook to Portugal for people who like eating and drinking. Charles Metcalfe and Kathryn McWhirter explain all there is to know about Portugal's wines, foods and cooking, as well as writing about the churches, museums, galleries, mountains, beaches and other places that shouldn't be missed. 
They also give entirely independent recommendations (no fees for publication have been asked for or accepted) of restaurants, bars, wine and food shops and places to stay. These range from tiny, hole-in-the-wall tascas (the simplest form of Portuguese restaurant) to the finest of modern and traditional eating, and from bed-and-breakfast accommodation and houses to rent to the grandest and most luxurious hotels. 
'The Wine & Food Lover's Guide to Portugal' won the Louis Roederer International Wine Book of the Year 2008. It is on offer to registered delegates at the International Wine Tourism Conference for the very special price of 10 Euros (normal Portuguese retail price 19.99 Euros).
Still dithering about whether to attend the 2011 International Wine Tourism Conference? Dither no longer and register now as a Conference delegate , broaden your horizons and get inspired! Oh and save yourself 10 Euros and get the book and then bring your copy along to the Charles Metcalfe Wine Tasting "The Surprising Wines of Portugal" on Monday 31st January and you could well get it signed by Charles and Kathryn! Limited number of copies on sale!