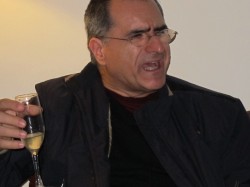 "It just makes sense" were the words of Italian pianist, Enrico Pieranunzi, when asked about pairing jazz concerts with wine. The energy, the creativity and the imagination to strive for that extra dimension in the final product is what tie's these two life pleasures together.  Simply put – a match made in sensory heaven.
Torre-Ramona recently hosted the IX annual Festival de Musica a les vinyes organized by Patronat de Turisme de Subirats. Jazz and wine-lovers alike came together to listen and watch in complete rapture Pieranunzis' rhythmatic improv and sip on refreshing Spanish Cava.
When you think about it, in wine tasting the sense of hearing is not a common tool in determining the aspects of the wine. The work is left up to the sight, smell and taste – buds. Therefore it makes sense to sync the two – jazz and wine. So the controversial question is, what wine to match with what music composition?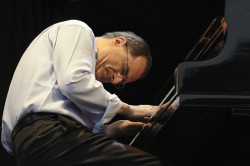 Pieranunzis' music encourages an array of moods within his audiences from his whimsical single note melodies to his bopping counter ballets. If you're in earshot you're bound to start looking at the person next to you in a more… romantic light. Needless to say, wine can evoke very similar moods in its drinkers too!
Pieranunzi shed some light on the subject from a composer's point of view explaining that the two concepts inspire one another. When asked how he would describe his music, Pieranunzi replied that he is very much Mediterranean in his music. Although the Cava matched with revitalizing ease, Pieranunzi would ultimately choose a Sicilian wine to accompany his concertos. Specifically he would opt for a Rosso Corvo, a full-bodied, dry red made from indigenous Sicilian grapes. The notion behind this being that Sicily is an icon of the Mediterranean through not only its wine but also its gastronomy and ultimately its culture.
Believe it or not there are some winemakers throughout the world that play music to their ageing wines – deeming that the sound waves positively effect the final wine. So next time you uncork a bottle, perhaps spare a thought for it's musical preference whether that be Mozart, AC/DC or Britney Spears. It's not as ridiculous as some people may think, matching wine with music after all, or is it?
 Casey Ewers, wine and travel blogging for Wine Pleasures