We are all working hard to make sure that the Wine Tourism Conference & Workshop will be both stimulating and fruitful. We are sure it will prove professionally rewarding and also personally enjoyable.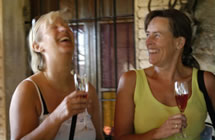 We have read the feedback on last year's conference with care and have responded by making a number of refinements which we hope will make your time with us as pleasant and as rewarding as possible. We are happy to offer you reliable WIFI, space and activities for networking, drop in owner or winemaker led wine tastings, a programme of After Conference events to include cured ham cutting techniques, water and wine matching, wine tastings of wines from Bulgaria, France, Hungary, Italy, Portugal, and Spain, and of course, trips to wineries.
We have four top notch plenary speakers lined up and over 40 talks, workshops, panel discussions and posters. Enric Ribera Gabandé will be leading the opening plenary session and will be setting the scene by talking about wine, tourism and wine + tourism. Complete pre-programme of talks and activities will be available 15 December 2009.
We look forward to welcoming you to Catalonia.
Recent video  (in Spanish) where we coincided with Enric on a recent Fam Trip in Collioure in the Languedoc- Roussillon wine region in the South of France: