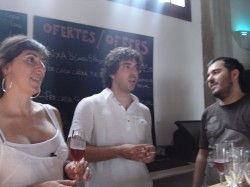 With Cavas Berdié winery on a hill in the distance, we peddled our way through the Penedes countryside with vines and prett flowers all around us lead by Anthony, wine country bike tour guide at Wine Pleasures and organizer of the tour. While it was a cool day in Catalonia, we still worked up a sweat going uphill for the last 200 meters of the ride.
Welcoming us as we arrived were spectacular views of vineyards below and the town of Vilfranca del Penedes in the distance. An even better welcome was the perfectly chilled glass of Cava Brut Rupestre and the warm greetings from the winery owners- three siblings native to the area – Sergi, Roberto & Marta. We were given a detailed history of the winery from Marta who served as our main guide throught the winery.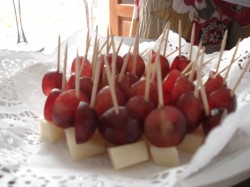 After enjoying the first glass we were led inside to the wine bar which was a converted half of the cellar separated by a wall of barrels. From there we began a sensory tour, smelling a wine and then a corresponding fruit, tasting the wine and then pairing it with a bite of food. We tasted only cavas, as that is what's produced at Cavas Berdie. Starting with a young cava paired with green apples for the smelling exersize and grapes and manchego cheese for the tasting, we knew we were in for a treat. The wine was crisp, acidic, and fresh- perfect for enjoying on a warm day with light and salty foods.
From there, we moved down to the cellar where they age the cava. Kept at about 16 degrees Celsius and 80% humidity, it was cool and damp. We learned their process of racking, riddling, and sur lie aging. We then tasted one of their best wines, the 2005 Gran Natura Cava. Aged for 50 months, we enjoyed aromas of baked apple, toast, quince, fennel and smokey notes. Paired with smoked salmon on toast, the cava was a decadent reward for the bike ride up.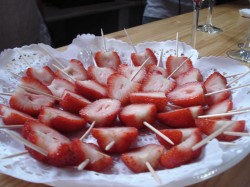 Moving back up to the main floor, we saw the machines used for disgorgement, corking, and labeling. The final wine of the tasting was a rose cava made from garnacha and montastrell grapes. Tart and sweet, this wine had an overwhelming nose of red berries especially raspberry, strawberry, and cherry. Tasted with salted fresh strawberries, the sweet/salty combination was delicious with the tart wine.
As the tour came to a close, we learned that this winery donates proceeds from every purchased bottle to different charities each year- something you don't always see. The small winery and personal touch made this winery an excellent stop on our wine and bike tour. With the typical two pecks on the cheeks and hugs from the owners we were back on our bikes happily heading downhill to the next winery.
Hailey Morton, Wine Travel Writer for Wine Pleasures
Here's a video shot during our visit. Can you name the typical catalan collecting hobby?