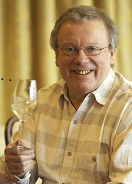 Charles Metcalfe, one of the best-known, most spontaneous and amusing wine critics in Britain will open the 2011 edition of the workshop Buyer meets Spanish Cellar with a guided tasting titled "The Many Flavours of Spain" on Wednesday 9 November 2011 at 17.30.
Attendees will be international wine importers travelling from all corners of the globe. Traditional and social media will also attend to cover the tasting.
The wines and bodegas chosen by Charles for the tasting are as follows:
Veyovis 2010, Veyovis DO Rueda, Idrias Chardonnay 2010, Bodegas Sierra de Guara DO Somontano, Mas Rodó Montonega 2009, Mas Rodó DO Penedès, Josep Foraster Trepat 2010, Mas Foraster DO Conca de Barberà, Abadal 3.9 2007, Roqueta Origen (Bodegas Abadal) DO Pla de Bages, Domus Pensi 2006, Altavins Viticultors DO Terra Alta, Syrah 2009, Mas Codina DO Penedès, Aventino 200 Barrels 2009, Vinnico Export DO Ribera del Duero, Genesi 2007, Paraje de los Bancales 2009, Bodegas Pastana DO Arribes,  Directe del Celler DO Montsant, Closa Batllet 2007, Cellers Ripoll Sans DOQ Priorat, Ardiles 2006, Merum Priorati DOQ Priorat, La Pamelita 2006, Lobban Wines, Vinos Espumosos de Calidad, Partida Creus Vi Dolç Natural, Celler Partida Creus DO Penedès, Ximenez-Spinola Very Old Pedro Ximenez, Bodegas Ximenez – Spinola DO Jerez.
Wine Pleasures Workshops bring together small to medium sized wine producers who do not usually take part in the large wine & food trade fairs with wine importers, with the aim of establishing business relationships between them. Over two and a half days, buyers hold personalised and productive, pre-arranged meetings and tastings with carefully selected wineries in a private meeting environment.
Buyers appreciate the Workshops because they can find new wine suppliers not normally present in the large trade fairs, meet the winemaker in a highly personalized setting, taste the latest vintages, discuss imports, prices and timescales, discover new products and attractive labeling and packaging, and appreciate the excellence in price-quality.
Information for wine importers